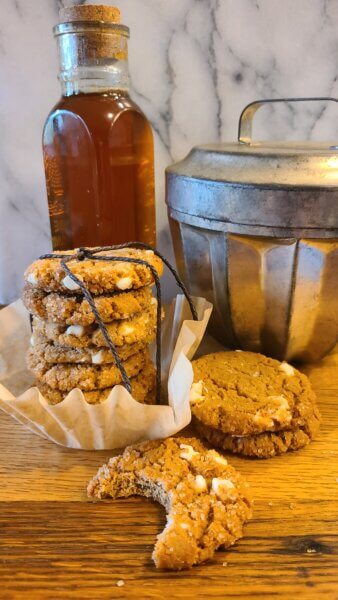 "Miso?!" you are probably thinking. I did too, but when a friend recently threw down the gauntlet with his NY Times Peanut Butter and Miso Cookies (https://cooking.nytimes.com/recipes/1020538-peanut-butter-miso-cookies), I decided to up the ante.
I like peanut butter, but mostly as a breakfast food on an English Muffin. So I chose cashew butter–though almond may be a more readily available sub, depending on where you live–added ginger, a favorite fall spice; maple syrup, another favorite fall flavor and addition of moisture since there is no egg; and stirred in white chocolate chips, though I consider them optional, if delicious.
And just like that, I had a new favorite cookie, the recipe requested by a favorite student. I hope you love them as much as we do!
Cashew Butter, Ginger, and Miso Cookies with (optional) White Chocolate Chips
Yield: approximately 18 cookies
1/2 cup vegan butter, softened
1/3 cup white miso paste (you can use yellow, but it will be a bit stronger; both are available at Asian groceries and some supermarkets)
1/4 cup cashew or pecan butter (available at supermarkets like Kroger, but you can sub almond butter)
1 cup firmly packed dark brown sugar
1/4 cup maple syrup
2 tablespoons ground ginger (or less if you want a milder cookie)
1 teaspoon fresh grated ginger
1 1/2 teaspoons baking powder
1 teaspoon baking soda
1 1/2 teaspoons vanilla extract
1 3/4 cup all purpose flour
Optional: 1/2 cup or more vegan white chocolate chips (I order from Amazon, but I believe stores like Whole Foods carries)
1/2 cup granulated sugar
Preheat oven to 350 degrees. Line a baking sheet with Silpat or parchment paper. (You may need 2 sheets or to bake in 2 batches, depending on size of sheet.) Place granulated sugar in small, shallow bowl.
On medium-high speed, cream together butter, miso paste, and cashew butter until smooth and fully combined. Beat in brown sugar until fluffy and most sugar crystals are dissolved. Add maple syrup, both gingers, baking powder, baking soda, and vanilla. Beat on medium-low just until combined. Add flour, one-third at a time, and beat on low speed just until combined, scraping down sides of bowl as needed; avoid over-beating. Stir in white chocolate chips if using.
Scoop up dough with small cookie scoop (about 2 tablespoons) or rounded tablespoon, form into balls by gently rolling between your palms, roll in granulated sugar, and place at least 2″ apart on prepared sheet, as they will spread. Bake 7 minutes, open oven door and, with a flat spatula, quickly press cookies into 3/4″ disks, close door and continue baking for about 5 to 6 minutes or until spread to about 1/2-inch thick, crinkly, no longer shiny, and lightly browned. Cool on wire racks and store in airtight container.