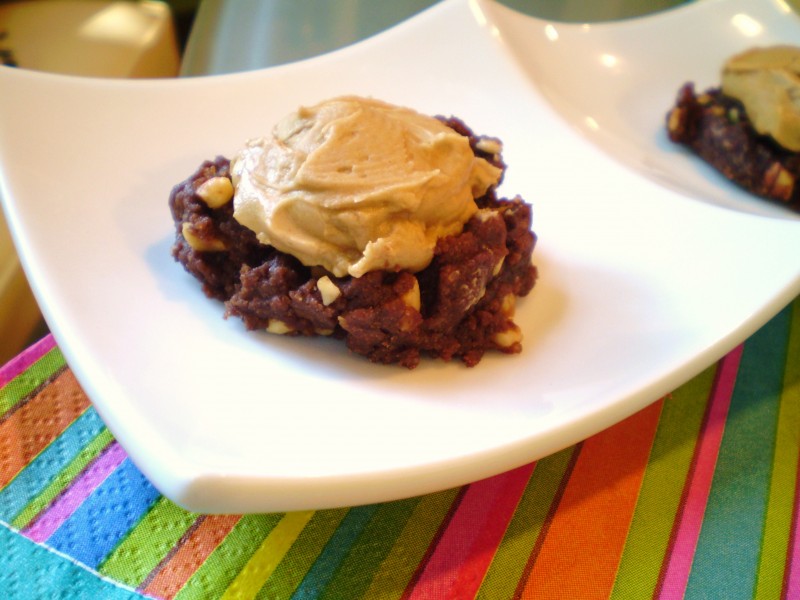 Yield: 1 1/2 dozen cookies (easily doubles)
Everyone loved my Vegan Mini Kahlua-Spiked Chocolate-Almond Cupcakes with Coconut-Espresso Buttercream Frosting.  And, since I had frosting left over from my testing session, I thought it might be perfect in a decadent fudgy thumbprint cookie.  Since I also had hazelnuts and Chambord on hand, they became Chambord-Spiked Fudgy Hazelnut Thumbprint Cookies. 
These were devoured by my non-vegan husband!
1/4 cup melted vegan butter (I like Earth Balance)
1/4 cup canola oil
2 tablespoons chocolate almond milk (chocolate soymilk would be tasty too)
2 teaspoons Chambord (or your favorite raspberry flavored liqueur)
2 teaspoons vanilla extract
1 teaspoon almond extract (that sounds like a lot, but it was just right to my palate)
1 cup natural sugar (this also sounds like alot, but I tried it first with 1/2 cup and it just wasn't enough; you could reduce to 2/3-3/4 cup if you are concerned about your sugar intake)
1 cup white whole wheat flour
1/4 cup cocoa powder
1/2 teaspoon baking powder
1/4 teaspoon baking soda
generous pinch sea salt (you may use table salt if you prefer)
1/2 cup finely chopped hazelnuts (if the nuts are too large, when you press your thumb into the dough balls, you will break them up)
Coconut-Espresso Buttercream Frosting
Preheat the oven to 350 degrees.  Combine wet ingredients (first six ingredients) in a medium bowl.  Combine dry ingredients in a separate medium size bowl.  Make a depression in the center, pour in wet ingredients and stir until well combined.  Dough will be stiff.  Line a baking sheet with Silpat or parchment paper.  Using s small scoop, place mounds of cookie 2 inches apart in rows.  Press your thumb into the center of each cookie to create a little depression.  Bake 10 minutes.  Remove the baking sheet to a wire rack and,when cookies are cool enough to handle, press your thumb again into the depression to define it a little more and make plenty of room for lots of frosting!  Let the cookies cool completely on the cookie sheet, as they will break apart if you try to move them while warm.  Fill the depression with  frosting by simply spooning it in or piping it  if you prefer a fancier presentation.  Store cookies in an airtight container in the refrigerator.  Note: avoid using all vegan butter in place of the butter-oil mixture, as the cookies will spread too much.