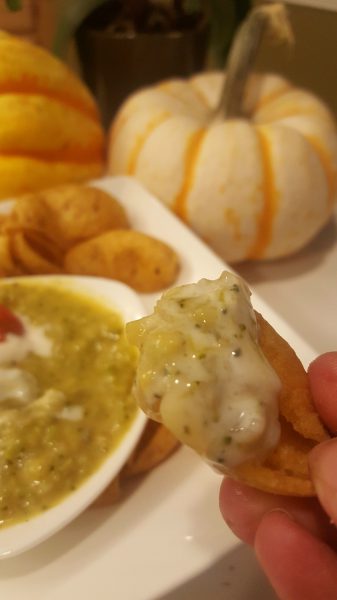 Yield: 4 cups  (about 60 calories per quarter cup)
Broccoli-Cheese Dip is everyone's favorite that needs no preamble, except this: my dairy-free version is rich and creamy but the flavor of broccoli and cheese shines through.  Serve it a little thinner, and you have the tastiest soup with no tongue-coating, flavor-masking dairy.  Just the perfect savory balance of aged and smoky cheddars, aromatic onion and garlic, and fresh, herby broccoli.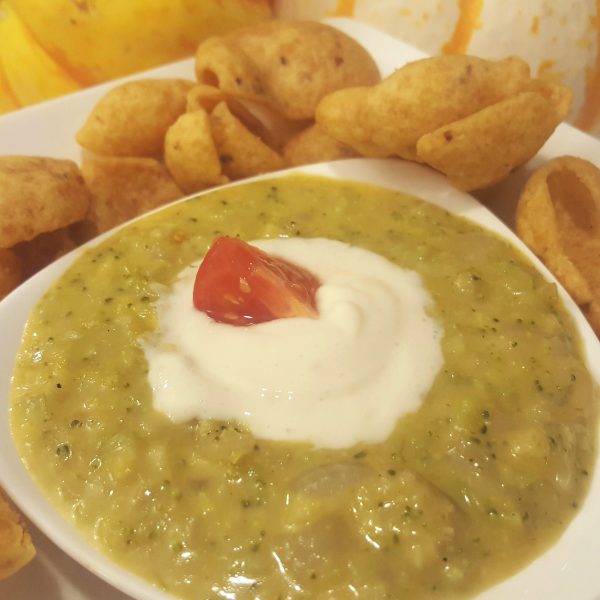 I medium-large onion, diced
2 to 3 garlic cloves, minced
1/2 teaspoon garlic powder
2 cups vegetable broth or stock
16 ounces riced broccoli, purchased or homemade in food processor (I buy at Whole Foods)
2 cups grated vegan cheddar
4 slices–or 4 ounces–vegan smoked gouda, torn into small pieces
Optional: if you like a bit of tanginess, 2 tablespoons vegan Parmesan with other cheeses
2 tablespoons 10-calorie/tablespoon Blooming Platter Mayo (at TheBloomingPlatter.com) or your favorite creamy base, e.g. vegan mayo, vegan cream cheese, cashew cream, etc.
Sea salt and pepper to taste
Accompaniments: raw veg, chips, crackers, or bread
Place onion, garlic, and garlic powder in a large skillet. Add enough broth just to cover bottom of skillet.  Saute over medium heat, stirring, for 3 or so minutes until onion is tender.  Add broccoli and remaining broth, and simmer 5 to 7 minutes or until very tender.  Reduce heat to low, add cheeses, and stir frequently until melted.  Stir in Blooming Platter Mayo or favorite creamy goodness.  Season to taste with sea salt and pepper. If serving as a dip, continue cooking until desired consistency is reached. You may also bake at 350 for 20 minutes with or without additional grated cheese on top. Serve with the accompaniments of choice.  If serving as a soup, add additional vegetable broth, if desired, and heat through.
#vegan #veganrecipes #veganfood #veganfoodshare #veganfoodporn #plantbased #plantbasedrecipes #plantbasedfood #plantbasedfoodshare #plantbasedfoodporn