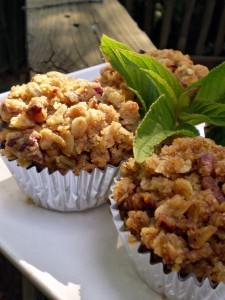 Alisa Fleming, creator of "Go Dairy Free," posted a lovely review of The Blooming Platter Cookbook just a little while back.   Her endorsement is very flattering for, through her work, she's seen more than her fair share of wonderful cookbooks.
But, with the change in seasons, she felt herself returning again to "The Platter" in search of what she calls "that depth of flavor that I love this time of year."   What she found and dubbed "perfect fall comfort food" was my Farmstand Fruit Muffins.  Follow the link for her intro, favorite apples recommendations, and the recipe.
Thank you, Alisa, for the post and for calling my cookbook a "creative collection of recipes"~enjoy everyone!