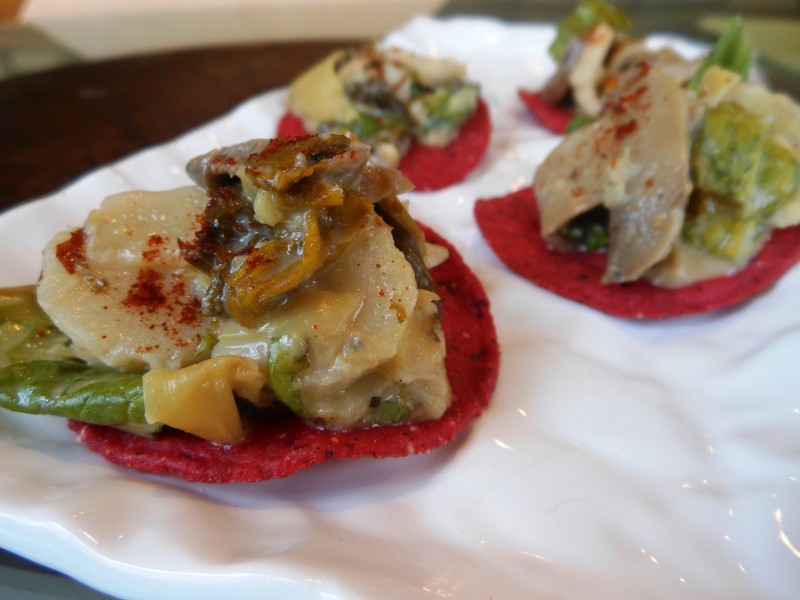 Yield: approximately 6 cups
Baby, it's cold outside!  At least it is here in Eastern VA where we are expected to experience the southern edge of the winter storm headed for New England.  A warning is scheduled from 7 p.m. this evening until 4 p.m. tomorrow.  Yippee….Snow Day!
When snow is on it's way, there is only one thing to do: make sure there is delcious, nutritious, body-and-soul warming food ind the house.  And this dip (which is darn tasty in a baked potato) fits that bill.
Inspired by the Super Bowl–you have to have dip during that game of games, no?–and by a bountiful box of GO Veggie! vegan cheeses kindly sent to me to test, I incorporated three kinds of cheesiness to achieve the flavor and texture I was after.
I am a new fan of GO Veggie! cheeses, having only discovered that the company makes vegan products (look for the purple label) when they contacted me recently, as the Kroger where I shop only stocks the vegetarian varieties.  With nice mild flavor, texture, and meltability, all they lack is "stretch," and I can live with that.  Find a store near you.
1 tablespoon olive oil
1 small yellow onion, diced (or 1/2 medium onion)
Sea salt
2 large cloves garlic, minced
1-8 ounce carton GO Veggie! Dairy-Free Chive and Garlic  Cream Cheese
1/2  to 1 teaspoon Italian seasoning (or dried oregano)
2-14 ounce cans artichoke hearts, rinsed, drained well, and chopped
3 cups coarsely chopped and lightly packed fresh mustard greens (feel free to use the greens of your choice, e.g. kale, spinach, Swiss Chard, etc.)
1-7 to 8 ounce cansliced  mushrooms, drained (I almost always use fresh everything, but canned are perfect for this)
1-8 ounce can sliced water chestnuts, rinsed and drained
1-8 ounce package GO Veggie! Dairy-Free Mozzarella Shreds
1/2 cup GO Veggie! Dairy-Free Parmesan Grated Topping, divided
Freshly ground black pepper to taste
1/4 cup sliced almonds
Garnish: smoked or plain paprika
Accompaniments: chips  or crackers of your choice (I bought the beet tortilla chips in the photograph in T. J. Maxx–tasty and such a pretty contrast with the green dip!)
Preheat oven to 350 degrees.  In a large cast iron skillet, heat olive oil over medium-high.  Add onion and a pinch of salt and saute, stirring frequently for about 3 minutes or until onion is tender.  Add, garlic and saute, stirring, for about 30 seconds.  Add the cream cheese and Italian seasoning and stir until melted,lowering heat at any point if necessary.  Stir in artichoke hearts followed by greens, one cup at a time, allowing each cup to wilt before adding next cup.  Then stir in mushrooms, water chustnuts, mozzarella shreds, and 1/4 cup parmesan topping, stirring until mozzarella is completely melted.  Season to taste with additional sea salt, if needed, and freshly ground black pepper.  At this point, you may transfer into a greased casserole dish if you like, but I baked it right in the skillet.  Sprinkle the top with remaining parmesan and sliced almonds.   Bake, uncovered, for 20 minutes.  Sprinkle with smoked or plan paprika and serve hot with chips or crackers.