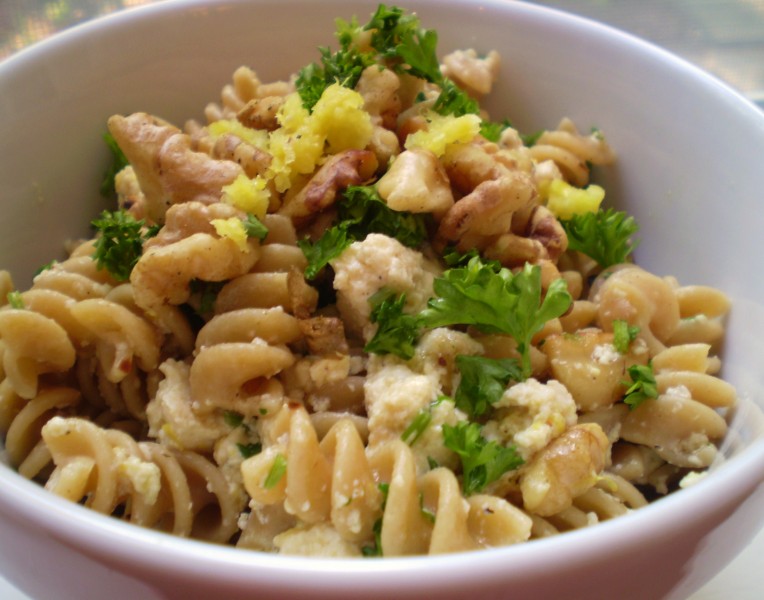 Yield : 4 servings
This new dish was inspired by a delicious-sounding recipe in a recent issue of a culinary magazine.
I don't create a lot of pasta recipes for the warm months, as it can seem a bit heavy.  But this combination seemed light and springy.  Icould just imagine the warmy toasty flavor of the walnuts playing off the appealing "grassiness" of the parsley, and the bright freshness of the lemon.  And, indeed, it is exactly right for a spring evening or even a weekend brunch, say, for Mother's Day in just a few days.
The non-vegan inspiration recipe called for ricotta cheese for which I knew I could easily substitute mashed tofu.  The remaining ingredients were all vegan, but the garlic chips sprinkled over the top seemed unnecessary and time-consuming.  So, my version omits them, yet contains plenty of garlic, and it is only cooked enough to add a mellow pungency to the beautifully balanced dish.
I hope you'll give it a try and let me know what you think!
8 ounces whole wheat pasta (I used rotini)
1/4 cup olive oil
2 large cloves garlic, minced
8 ounces soft regular tofu (not Silken)
1 tablespoon nutritional yeast
Sea salt to taste
Freshly ground black pepper to taste
Zest of one large lemon + extra for garnish
1/4 cup finely chopped parsley + extra for garnish
1/4 cup toasted walnut pieces + extra for garnish (I dry toast them in a skillet over medium-high heat for a few minutes, stirring occasionally)
Red pepper flakes to taste
Heat a large pot of salted water to boiling over medium-high heat  with the lid slightly ajar.  Add the pasta, stir once, and simmer, reducing heat if necessary, for approximately 9 minutes or until al dente.    Meanwhile, in a small saucepan, heat the olive oil and garlic over medium heat and very gently simmer for 2 to 3 minuts or until the garlic is softened and just barely begins to turn golden.  Then, in a small bowl gently mash together with your fingers the tofu, nutritional yeast, sea salt and pepper to taste (it's important to season every layer), adding the lemon zest toward the end.  The tofu should be broken down into fluffy "chunks" about the size of peas.  When the pasta is done, drain it well and return to the pot.  Drizzle the olive oil over, sprinkle with parsely and gently combine.  Add the mashed tofu, walnuts and a few red pepper flakes; gently combine.  Check for seasoning, adjust as necessary, and serve warm garnished as desired.