Yield: 2 servings
Calories: app. 250/serving (if you are starved, enjoy the whole recipe for only 500 calories!)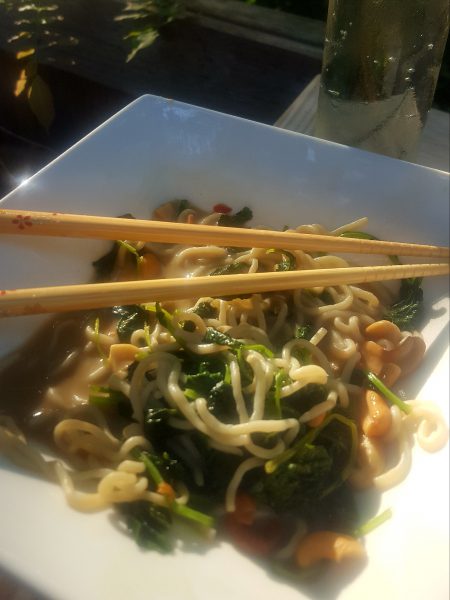 The truth is, I am not passionate about food in the same way as I used to be.  BUT WAIT.  Before you think, "Well I'm certainly not going to waste my time perusing the website of someone who isn't passionate about food," please allow me to explain.  (If you want to skip the backstory/lecture and go straight to the recipe, just scroll down a short ways.)
For most all of my life, beginning in childhood, I obsessed about food.  My restless imagination was almost never not ruminating on new recipes or new riffs on old recipes: new ways to do things in the kitchen; better ways.  My mind was like that of a slightly mad scientist, my kitchen a laboratory where I joyfully spent hours on end.  Drive time, shower time–even yoga–it was all permeated by thoughts of food.
But then my husband  died.  And all of that changed.  A lot changed.  Food was just one of the many things on the chopping block, so to speak.  I am no longer in a full-on situational anorexic phase.  But, food quickly became and remained more of a sacrament.  Exquisite tastes to be partaken in small quantities that graces life's other moments of meaning and transition is how I think of food.  This pasta dish, enjoyed alfresca, anointed the last day of school before exam week and acknowledged my gratitude for the beautiful place where I live happily, if a bit sobered and, certainly, changed in some profound ways.
Regarding practical considerations, my husband didn't eat the way I do and neither does my new partner of just over a year and a half.  So I really cook for one and most recipes make far more than that, either spoiling or causing me to eat out of guilt for fear of the food spoiling.  And the disquieting truth about diet is that we Americans, especially, don't need the quantity of food–even good, clean, wholesome food–that we desire.  And that includes vegan food.  Plus, there are ways other than standing in my kitchen that I want to spend more time now, as simple and beautiful as my recently remodeled culinary space is.
Let's be honest: nothing about a vegan diet is necessarily low-calorie or, for that matter, even healthy.  It is absent any cholesterol for sure. And it's a whole lot better for the animals and, possibly, the planet, though the manufacturing and packaging of processed foods presents a problem.  But, unless we choose carefully, we can end up eating a shameful American diet full of fat and sugar, albeit absent of any animal products.  It appears that many vegans simply want to eat the vegan equivalent of their pre-vegan diet of fast food and high-calorie indulgences, you know, dishes like mac-and-cheese nachos with a side of tater tots.
For the animals, I am grateful that these folks have made the switch.  For ourselves, we can do better.  And to move us a little further along that path, I offer this simple, satisfying recipe for a nutritious one-dish meal that is as quick as it is low in both fat and calories.
Vegan Thai Coconut-Kale and Peanut Noodles
1/4 cup water
8 cups baby kale (substitute spinach or a combination if you desire)
1/4 cup vegan fish sauce (sold in Asian markets as "vegetarian" fish sauce or make your own)
1 tablespoon natural peanut butter (creamy or chunky works equally well)
1 8-ounce package tofu Shiratake spaghetti noodles, rinsed and drained (I use House Foods brand with only 20 calories for the entire 8 ounces, but the konnyaku type made from a yam-like tuber has 0 calories)
Garnish: 1/4 cup roasted and lightly salted cashews halves and pieces or peanuts
Optional garnish (which I love but isn't pictured): Sprigs of Thai basil, mint, and/or cilantro
In a large skillet over medium, heat water to a simmer.  Stir in kale, 2 cups at a time, until each batch begins to wilt.  You can add it all at once, but I like the different textures derived from each handful cooking slightly less time than the one before.  Stir in vegan fish sauce, followed by peanut butter.  When sauce has come together and most of the liquid has evaporated, add noodles, and heat through, stirring to separate the strands.  Serve in bowls with chopsticks topped with cashews and peanuts and the herb of your choice.  Thai basil–so different from Italian basil–is a favorite of mine.