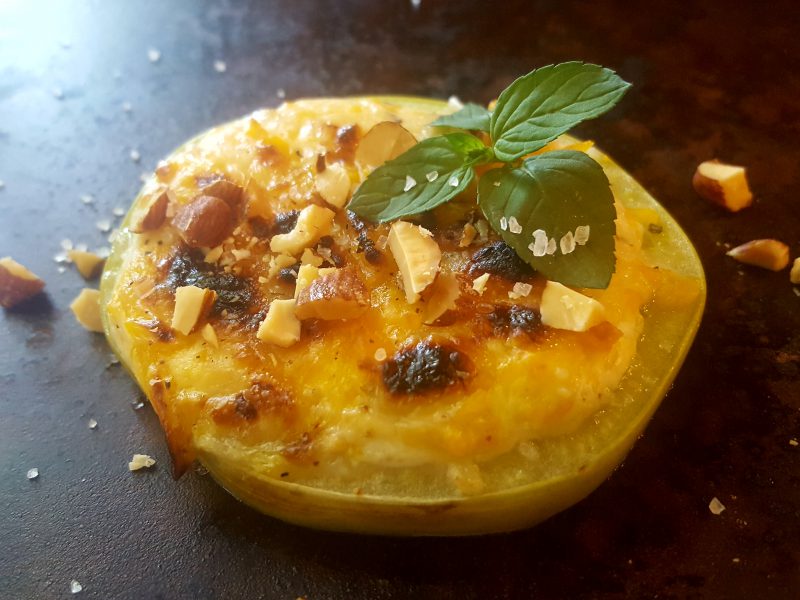 By now, you probably know that I like all ny foid lightened up and brightened up. So, recently, when I was reading my new issue of Savor Virginia, I was enchanted by an article on Red Truck Bakery, including their recipe for Green Tomato Pie.
I love tomato pie as much as the next gal, slathered with mayonnaise mixed with cheeses and layered into a buttery crust and bacon, all vegan of course.
But just now, I wondered what would happen if I dispensed with the crust and simply slathered thick slices of green tomato with my 10 calorie per tablespoon Blooming Platter Mayo combined with a moderate amount of vegan grated cheddar and vegan shredded parmesan.  A few smoked almonds would lend the flavor of the tempeh bacon.
What happened was one of the quickest, lightest, and tastiest lunches in recent memory!
Here is my simple recipe:
Vegan Green Tomato Crustless Tarts
Yiekd: 4 tarts
4 1/2-inch slices green tomato
1/4 cup Blooming Platter Mayo or your favorite brand of vegan mayonnaise
2 tablespoons + 2 teaspoons vegan grated cheddar
2 tablespoons + 2 teaspoons vegan shredded parmesan
Freshly ground black pepper to taste
Optional garnish: 12 smoked almonds, coarsely chopped
4 sprigs fresh Basil
A-few grains of coarse sea salt
Preheat oven to broil. Place tomato slices on a baking sheet. In a small bowl, whisk together mayo, 2 tablespoons of both cheeses, and black pepper. Divide evenly among the tomato slices and spread to within 1/4 inch of the edges. Sprinkle each with 1/2 teaspoon each of cheddar and parmesan. Broil for approximately 6 minutes or until cheese is melted and beginning to brown. Serve topped with a sprinkling of chopped smoked almonds, a sprig of fresh basil, and a whisper of coarse sea salt.