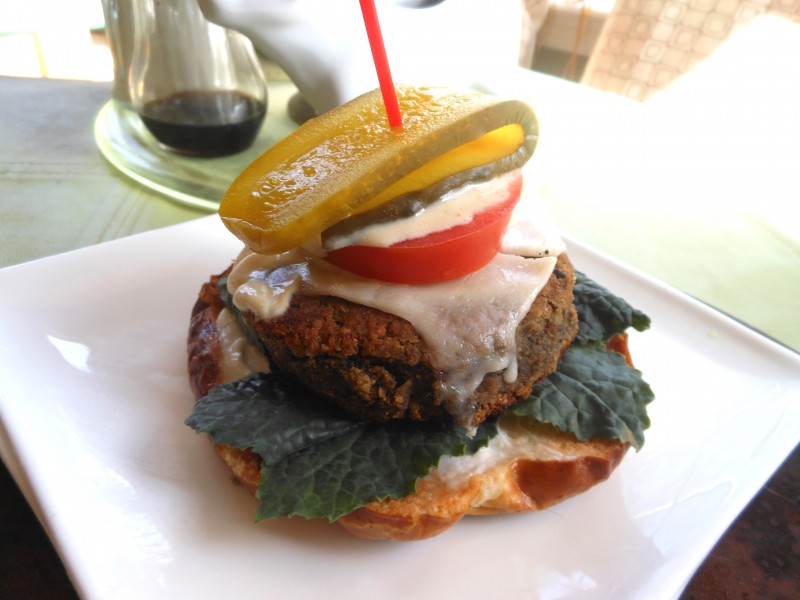 Yield: 4 burgers
This delicious vegan burger was inspired by a "care package" from the good folks at Navitas Naturals filled with three items to test: Cacao Powder, Turmeric-Tamari Almonds, and Coconut Sugar.
(Note: these burgers would be equally delicious, albeit with a different flavor profile, made with other flavored almonds of your choice.)
All three products earned big thumb's up from me when tasted separately and prepared as part of a specially-created recipe, including my Vegan Hot Chai Cocoa prepared with the Cacao Powder and my utterly decadent Salted Caramel and Chocolate Ganach Tarts prepared with the coconut sugar which I will post soon.
I decided to incorporate the almonds into one of my no-fail burgers.  For The Blooming Platter Cookbook, I developed a formula for a chewy, moist burger that holds together beautifiully and can be adapted a multitude of ways.  And it took several tries to get it right!  The key ingredients are cooked beans or legumes, nuts, vital wheat gluten, and raw oats plus onion, celery, and bell pepper (or,in this case, winter greens) for flavor and mositure, and the spices of your choice.  All of the ingredients go into the food processor and in minutes a beautiful burger is born.
For this recipe, I served the patty open-face on a toasted pretzel roll (so perfect with a slight tang from vinegar baked into the dough), a "schmear" of vegan mayo, some baby kale leaves, a slice of GO Veggie! Dairy-Free Pepperjack Cheese, a fat round of Roma tomato, a dollop of Vegan Turmeric-Tamari Mayo inspired by the almonds, and a dill pickle slice speared on top.
Our beloved 85-lb. Great Dane mutt, Minnie, and I loved them: she ate the first one that I had staged for a photo while I had run upstairs to get my camera, red plastic spear and all.  I'll spare you all of the disgusting details, but a frantic text to our vet resulted in my making a special "cocktail" involving 3 tablespoons of hydrogen peroxide that would bring it all back up and prevent that 3-inch red plastic spear from doing any intestinal damage.  It worked like a charm and, if interested, you can read about it here.
2 large cloves garlic, crushed
1/3 cup coarsely chopped yellow onion
1/3 cup coarsely chopped celery
1/2 cup coarsely chopped winger greens (I used mustard greens)
1/2 cup Navitas Naturals Turmeric-Tamari Almonds (or another similarly flavored almond of your choice)
1-15 ounce can black beans, rinsed and drained
1/2 cup old-fashioned oats
1/2 cup vital wheat gluten
1 tablespoon tamari
1 tablespoon olive oil
1 tablespoon water
1/2 teaspoon turmeric
1/2 teaspoon sea salt
1/4 teaspoon freshly ground black pepper
Vegetable oil (I typically use canola)
2 Pretzel Rolls, halved and toasted
4 tablespoons Vegan Mayonnaise
1 cup baby kale leaves (or another lettuce or green)
Optional: 4 slices vegan cheese (I use GO Veggie! Dairy-Free Pepperjack Slices
4 thick slices Roma tomato
Vegan Turmeric-Tamari Mayo (recipe follows)
4 dill pickle slices
In a food processor, combine the garlic, onion, celery, winter greens, and almonds.  Pulse until minced. Add the beans, oats, vital wheat gluten, tamari, olive oil, water, turmeric, salt, and pepper. Process until well combined, but avoid over-mixing as the vital wheat gluten can toughen. The consistency should be similar to a very stiff cookie dough, so add another tablespoon or 2 of water if necessary.  Shape mixture into 4 patties, about 3/4-inch thick, and transfer to a plate. Heat a thin layer of oil in a cast iron skillet over medium-high and cook the patties for 4 to 5 minutes on each side or until golden brown, adding more oil if necessary.  If including cheese, place a slice on top of each patty during the last 2 to 3 minutes of cooking on the second side. To serve, spread each toasted pretzel roll half with 1 tablespoon of mayo, top with 1/4 of greens, a burger patty, a slice of tomato, 1/4 of the Turmeric-Tamari Mayo, and a folded dill pickle slice speared through the top.
Vegan Turmeric-Tamari Mayo
1/4 cup vegan mayonnaise
1 teaspoon tamari
1/2 teaspoon turmeric
Whisk together all ingredients in a small cup or bowl.  Taste and adjust with more tamari or turmeric of desired.