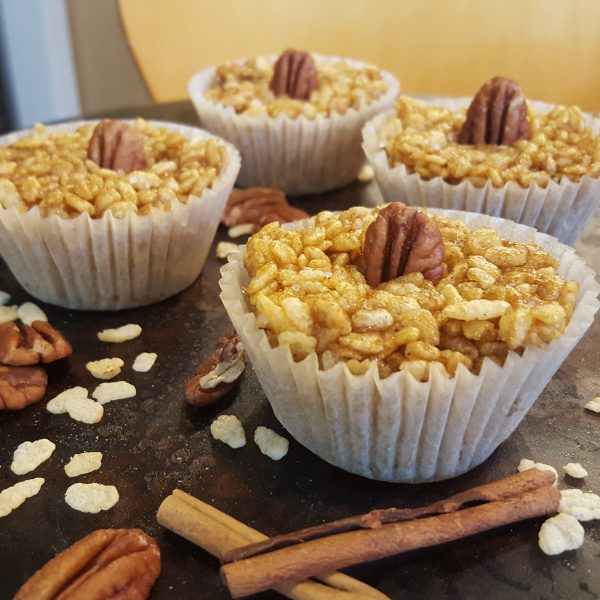 Pumpkin luvahs, do you feel me?!
Vegan Pumpkin Pie Spice Rice Krispie Treats
Yield: 1 dozen (approximately 170 calories each)
I don't think my newest recipe needs much of a preamble except to say, what are you waiting for?
4 tablespoons vegan butter
10 ounces vegan marshmallows (I use Dandie brand)
6 cups rice cereal (I actually use Erewhon brown rice but you could use the Rice Krispies brand)
Pinch sea salt
1 tablespoon pumpkin pie spice
6 tablespoons pumpkin puree, not pumpkin pie filling
Optional garnish: 12 pecan halves
Line a muffin tin with 12 cupcake papers and set aside. In a large saucepan over medium to low heat, melt butter and marshmallows, stirring continually. Vegan marshmallows melt more slowly than regular marshmallows, so be patient and keep stirring with a wooden spoon. Remove from heat, stir in remaining ingredients, except pecans, until completely combined, and divide evenly among cupcake cups, pressing down firmly. Garnish each with a pecan half if desired. Cool to room temperature and store in refrigerator In an airtight container.
#vegan #veganrecipes #veganfood #veganfoodshare #veganfoodporn #plantbased #plantbasedrecipes #plantbasedfood #plantbasedfoodshare #plantbasedfoodporn