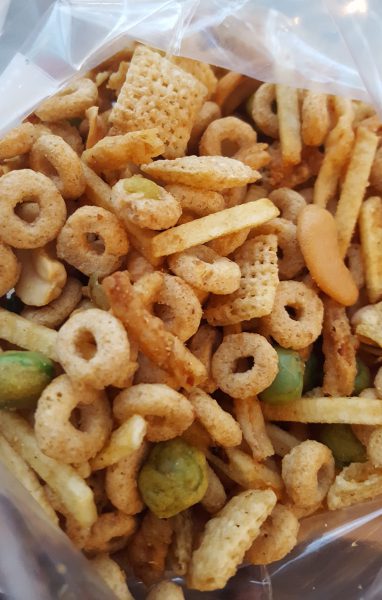 You know those crispy onions on top of green bean casserole from "back in the day"?  Well, they are vegan, and they aren't just for casseroles anymore…
As I explained in my previous post, one of my mother's Christmas traditions was to make an enormous Tupperware container of "Texas Trash," aka Chex Mix every Christmas.  Gone for two Christmases now, my father, sister, and I haven't been very good about maintaining the tradition which may explain why I am craving it in January and keep thinking up new iterations upon which she would frown in keeping with her "why mess with perfection" philosophy.
But mess I do, and I think you will approve, though you should feel free to do your own "messing around" with this recipe.  There is nothing sacred about it, but it is outrageusly delicious as is.  I simply fantasized about some of my favorite ingredients in Thai curries, and those that are sold in a dried form were in: cashews, peas, potatoes, onions, and rice.  Cheerios are included for shape and texture contrast and because I adore they way they soak up the buttery seasoning.
1 1/2 cups vegan butter (it sounds like a lot BUT this recipe makes a lot and this amount is needed)
1-1.75 ounce packet of Taste of Thai Green Curry Paste (sold in a pouch inside a cardboard cover)
16 ounces salted or lightly salted cashew halves and pieces
2-5 ounce packages Wasabi peas
2-5 ounce packages potato sticks
2-6 ounce packages crispy onions (like old timey cooks use to top their green bean casserole; French's is a popular brand)
1-14 ounce box Chex Rice Cereal
1-14 ounce box Cheerios (NOT the sweet ones)
Preheat oven to 250 degrees.  Place butter in large roasting pan and place pan in oven for a few minutes or until butter is melted.  Stir in sesame oil, soy sauce, seasoning packets, Nori powder, orange zest, and seasoning salt.  Add remaining ingredients in succession, gently stirring after each addition to coat with the butter mixture.  Roast for 60 minutes, gently stirring up from the bottom every 15 minutes.  Remove from oven, stir well, allow to cool completely–it will crisp even more as it cools–and package for eating or giving.  Note: I don't find the mixture too buttery for an indulgent snack, but if you prefer to absorb a little of the oil, spread the mixture on brown paper bags or paper towels to cool.