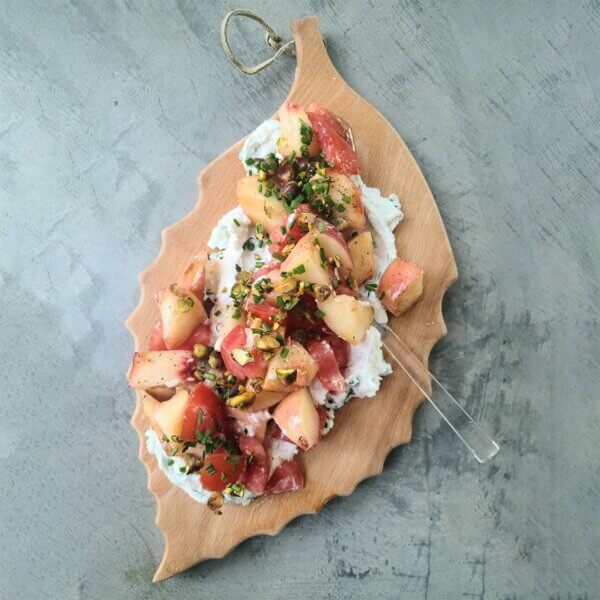 Today I offer a perfect late summer vegan/plant-based recipe and an apology…for being "gone" for so long.
First the recipe:
Tomato-Peach Caprese is perfect for a light summertime snack, lunch, or dinner. Made with Tofutti Better Than Ricotta Cheese, fresh peaches and tomatoes, and chopped pistachios, it is especially light and refreshing served with cucumber slices, but serve it with crostini for a treat that is a little more substantial. We love the ricotta, but if you can't find it locally, feel free to substitute Better Than Cream Cheese. But, good news: all Tofutti products are available at PlantX.
Ingredients:
2 large cloves garlic, minced
2 tablespoons olive oil
1 cup Tofutti Better Than Ricotta Cheese
1 tablespoon red wine vinegar or balsamic vinegar
1.5 ounces chives, snipped (use kitchen shears); reserve 1 to 2 tablespoons
1/8 teaspoon freshly ground black pepper
1 large ripe peach, diced
1 large ripe tomato, diced
1 to 2 tablespoons pistachios, finely chopped
Sea salt
Accompaniments: crackers or cucumber slices
Directions:
At least 30 minutes before preparing, combine garlic and olive oil in a small container and let steep at room temperature.
In a small bowl, stir together Tofutti Better Than Ricotta Cheese, red wine or balsamic vinegar, chives, and pepper until completely combined. Spread onto serving plate or board.
In another small bowl, gently toss together tomatoes and peaches with 1 tablespoon garlic oil and spoon on top of ricotta. Drizzle with remaining garlic oil and sprinkle with reserved chives, pistachios, and sea salt to taste.
Serve immediately with crackers and/or cucumber slices.
*Created exclusively for Tofutti Brands, Inc. by Betsy DiJulio of The Blooming Platter.
The apology:
As some of you may know, over a year ago, much to my delight, Tofutti Brands hired me as a recipe developer and food photographer. But, since fall 2020, I have also been a full-time teaching artist in the Upper School at Norfolk Academy in Norfolk, VA, where I concurrently–and gratefully–serve as the curator of Perrel Gallery. This rich new path follows a 16-year career as a public high school art teacher. And Tofutti isn't my only side hustle, as I manage a busy magazine and newspaper freelance writing business.
I share this not as an excuse, but an explanation for my too-long neglect of my beloved website, The Blooming Platter.
Initially, I planned to post a recipe every time Tofutti did, but that plan got sidetracked by life and by my obsessive weekly recipe creation and testing. However, with this post, I am recommitting to that plan. I sometimes create other recipes which I will also share here. But for the most part, I am so consumed–see what I did there?–by my tasty work for Tofutti that virtually all my new recipes include Better Than Cream Cheese, Better Than Sour Cream, or Better Than Ricotta.
Substitutions/Tested Recipes
You can certainly try substituting other brands BUT be advised that, not only are Tofutti my favorite plant-based cream cheese, sour cream, and ricotta, but the recipes have only been tested with these products.
Get the Skinny
To make sure you don't miss a single recipe, visit Tofutti here and sign up for our mailing list where your privacy will be respected and you will not be inundated. But you will receive all our recipes and eCookbooks, with the next featuring recipes for busy school and work mornings, afternoons, and evenings, as we gear back up for another school year.