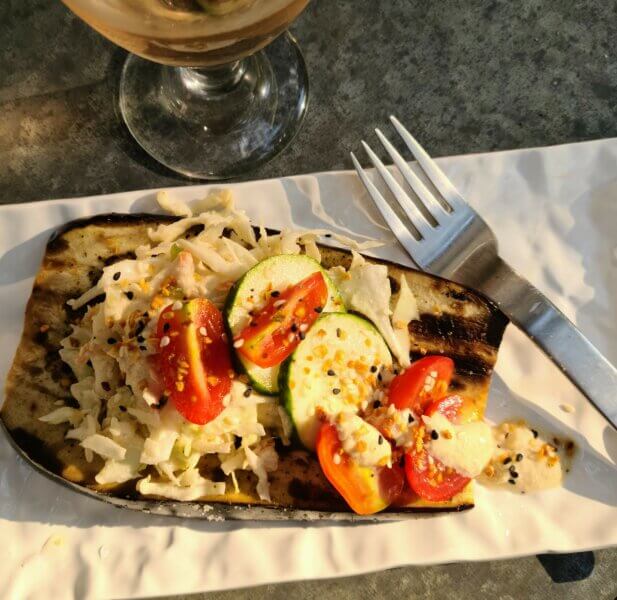 Tonight's dinner alfresco was inspired by what was in our fridge, and what I was craving, namely something cold and something grilled… summer is here with a vengeance in Eastern Virginia.
There is really not much of a recipe. I just grilled planks of eggplant on my indoor grill pan with non-stick cooking spray and sprinkled with a little sea salt and zataar.
For the slaw on top, I used a ratio of 1 to 1 to 2 tahini, brine, and olive oil. You could use any vinegar or vinegary-type brine, but I used some leftover escabeche brine.
I simply tossed the dressing with some slaw mix, mounded it on top of the eggplant, garnished with some sliced cucumber and cherry tomatoes, and sprinkled with Everything Bagel spice blend.
Dinner is served!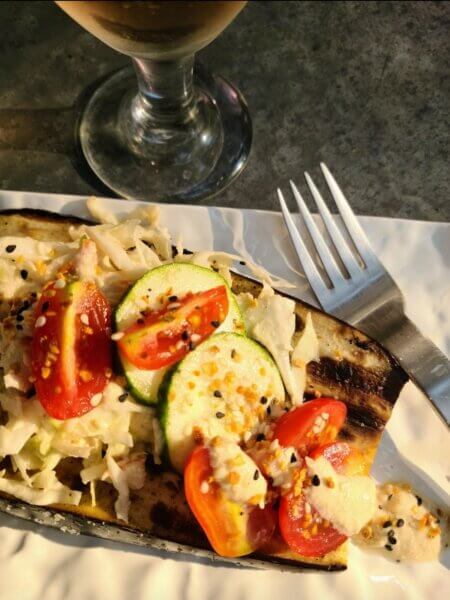 #vegan #veganrecipes #veganfoodshare #veganfoodporn #plantbased #plantbasedrecipes #plantbasedfoodshare #plantbasedfoodporn #vegansofinstagram #vegansoffacebook #vegansofvirginia #plantbasedMediterranean #veganMediterranean #plantbasedeggplant #veganeggplant