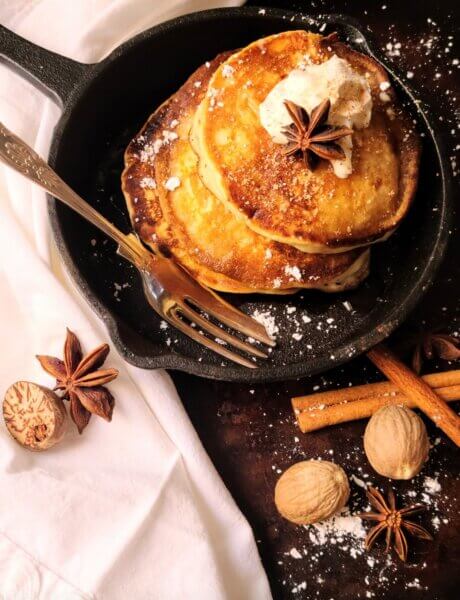 Yield: 4 to 6 servings (16 medium pancakes)
Thanksgiving is scarcely over and I am already making Christmasy-breakfasts!
The independent school where I have been joyfully employed as the upper school art teacher since 2020 includes the post-Thanksgiving Monday as part of our holiday–what?! So that left me with a little extra time this morning to have more than a cup of chai. With Chobani Oat Nog in the fridge and a nip in the air, I knew what I wanted to whip up after a couple miles of dog walking and before my longer hike at the Norfolk Botanical Garden: Eggnog Pancakes, or "Eggnot" Pancakes, as a silly play on words.
The distinctive noggy taste of Chobani's welcome addition to the seasonal array of commercially-prepared products plus a little tang from my go-to, Tofutti Better Than Sour Cream, not to mention the addition of freshly-grated nutmeg–oh, and a little bourbon in the syrup–yielded a twist on a Christmas classic as delicious as its namesake.
1/2 cup Tofutti Better Than Sour Cream
1 1/2 cups Chobani Oatmilk Oat Nog
2 cups all-purpose flour
1/4 cup powdered sugar
2 teaspoons baking powder
1 teaspoon baking soda
1/2 teaspoon freshly grated nutmeg or to taste
1/2 teaspoon salt
Garnishes: additional Better Than Sour Cream, maple of bourbon-maple syrup, powdered sugar, freshly ground nutmeg, cinnamon sticks, and star anise
Preheat oven to low or warm, approximately 170 degrees. In medium bowl, whisk together Better Than Sour Cream and a little Oat Nog until smooth and creamy. Then slowly whisk in remaining Oat Nog. Add all remaining ingredients except garnishes and whisk just until smooth. Spray large skillet with nonstick spray and heat over medium. Make pancakes, 3 or 4 at a time, using 2 generous tablespoons batter each. Cook a couple minutes and, when a few bubbles start to appear, flip and cook 2 to 3 more minutes or until center is completely set. Adjust heat as necessary. Remove pancakes to cookie sheet and keep warm in oven. Continue with remaining batter. Serve pancakes warm topped as desired with additional Better Than Sour Cream, maple or bourbon-maple syrup, a dusting of powdered sugar, freshly ground nutmeg, cinnamon sticks, and star anise.
#vegan #veganism #veganrecipes #veganfoodshare #veganfoodporn #plantbased #plantbasedrecipes #plantbasedfoodshare #plantbasedfoodporn #vegansofinstagram #vegansofig #veganinvirginia #goveg #veganforlife #govegan #doitfortheanimals #doitfortheenvironment #dotiforyourhealth #animalsarefriendsnotfood #herbivore #crueltyfree #thebloomingplatter #foodstylist #recipedeveloper #foodphotography #eggnog #pancakes #holidayrecipes