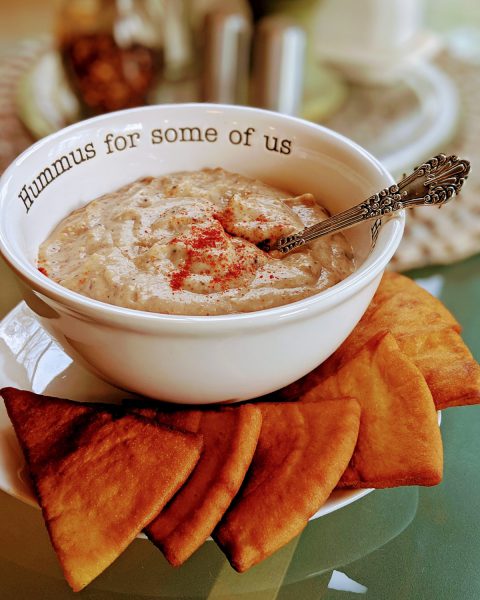 Get your good luck on…any day of the year!
Though I created this recipe for New Year's Day, it is too tasty, quick, and healthful to only roll out once a year.
I am happy to share black eyed peas like you've never had them for good luck throughout the new year and great taste in the present moment:
Creamy Vegan Middle Eastern Black-Eyed Pea Dip or Spread
1/2 red or yellow onion, diced
1-15.5 ounce can black eyed peas, rinsed and drained
Pinch sea salt
8 ounces tofu, silken (dip) or firm regular (spread), patted dry
1/2 teaspoon ground cumin
1/2 teaspoon smoked paprika
1 tablespoon Everything Bagel seasoning
Barely cover the bottom of a large skillet with water and saute onion, stirring, with a pinch of sea salt until it begins to soften, about 2 minutes. Add black eyed peas and continue sauteing until onion is soft and water is evaporated. Place all ingredients in bowl of food processor and process until smooth. Serve garnished with a sprinkling of smoked paprika and, if you have on hand, a few pomegranate seeds. Serve with pita points, regular or fried, pita or bagel chips, or raw vegetables.
#vegan #veganrecipes #veganfoodshare #veganfoodporn #plantbased #plantbasedrecipes #plantbasedfoodshare #plantbasedfoodporn