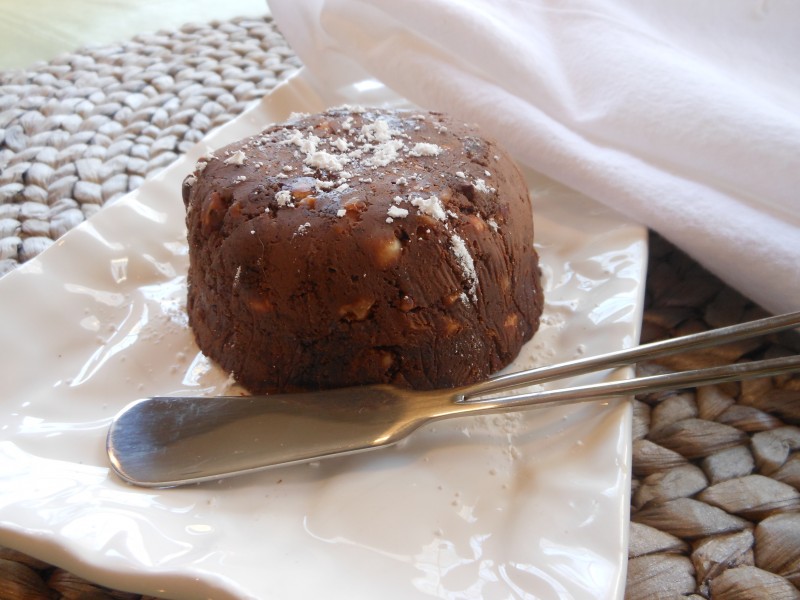 This recipe was born of some leftover ganache (unheard of, I know), some frozen cake trimmings from my Vegan Chocolate Heart Cakes for Valentine's Day, and slick snow conditions on the road.  Read: what can I create that won't require a trip to the grocery store so that I won't simply tuck into this ganache with a spoon?
The answer proved to be chocolate pate, but one a little different from other recipes, as mine calls for some vegan cream cheese to prevent the chocolate from taking over–tang is a good 'thang–and some chocolate cake crumbs for a nice textural contrast. Like most other chocolate pates, mine is not too sweet, which is also a good thing…sometimes.
4 ounces (1/2 cup) vegan cream cheese
1/2 cup chocolate ganache, room temperature (if you don't have some on-hand, just melt together about 3 tablespoons vegan chocolate chunks or chips–I like dark chocolate–with about 5 tablespoons non-dairy creamer and allow to cool)
Optional: 1 to 2 tablespoons non-dairy creamer (soy or coconut milk)
1/2 cup toasted and coarsely chopped hazelnuts
1 cup crumbled vegan chocolate cake or brownie crumbs
Acccompaniments: Ever-so-slightly sweet vegan crackers of cookies, like a shortbread and fruit
Line a pair of 1/2 cup ramkins with plastic wrap and set aside.  With a hand or stand mixer, whip together cream cheese and ganache until fluffy.  Whip in an additional tablespoon or two of non-dairy creamer if mixture is too stiff to be fluffy.  Fold in hazelnuts and crumbs; mixture will be firm.  Divide equally between ramkins, pressing firmly, and sealing the top with the "tails" of the plastic wrap.  Refrigerate for several hours or until firm.  Unmold, bring to room temperature, and serve with the cracker or cookie of your choice and, if desired, fruit.