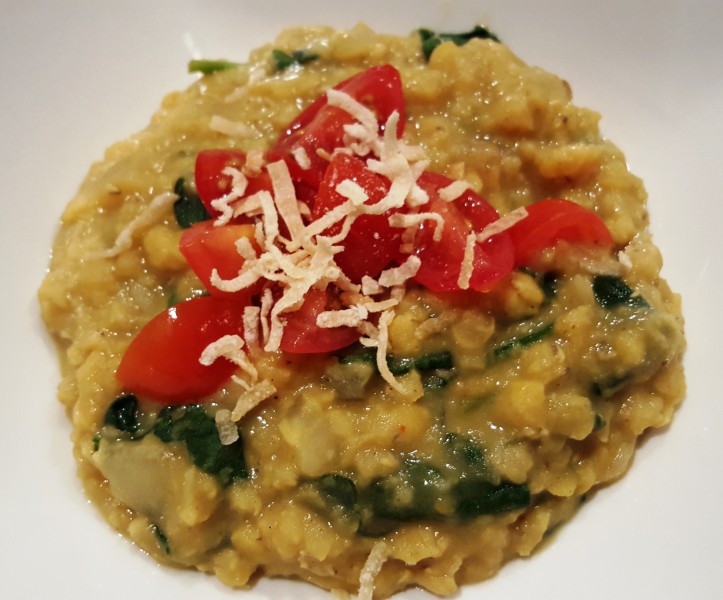 Yield: 6 servings
I have made other versions of this Indian staple, so rich, colorful, and satisfying without being heavy, but this may be the easiest and most straight forward, not to mention tastiest.
1 tablespoon olive oil
1 medium onion, diced
2 large cloves garlic, minced
1 tablespoon curry powder (I used a fairly mild variety from Spice Ace in San Francisco, but use your favorite)
1/2 teaspoon cumin powder
1/2 teaspoon coriander
Optional: 1/4 teaspoon turmeric
1 pound yellow or red lentils (I purchased red which was all Kroger carried), but they cooked up yellow, which is what I wanted), rinsed and drained
6 cups vegetable stock
1-15.5 ounce can coconut milk (I used the "lite" version, but you get SO much more flavor with the regular)
Sea salt and freshly ground pepper to taste
6 lightly packed cups fresh baby spinach
Garnish: quartered red grape tomatoes and, if desired (recommended), toasted coconut
In a large pot (e.g. 4-quart), heat olive oil over medium-high.  Add onion and saute, stirring, about 3 minutes or until softened.  Add garlic and saute about 30 seconds.  Stir in spices, add lentils, stock, coconut milk, salt and pepper and simmer about 15 to 20 minutes or until desired consistency is reached, adding more stock, if desired.  Just before serving, wilt in spinach, 2 cups at a time.  Serve garnished with tomatoes and optional toasted coconut.