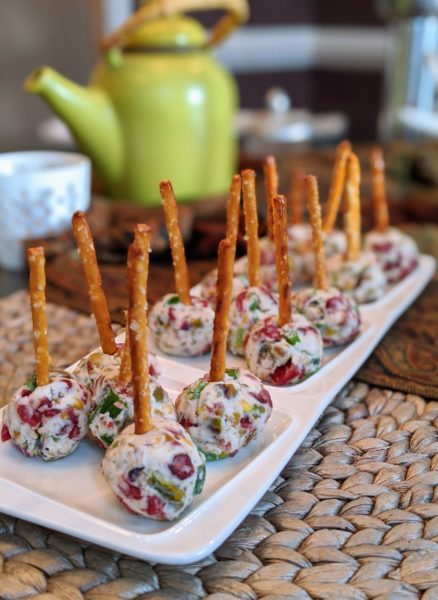 It would be downright wrong of me not to share this recipe before New Year's because every southern gal knows it's not a proper party unless there's a cheeseball on the table.
But for our Christmas Cheer Open House, I felt guests would enjoy the food more if they could pick it up and pop it in their mouths without a plate–though I provided plates–and I was right!
These were a hit and were even included on a New Year's appetizer menu by a chef who saw my post in a plant-based Facebook group for chefs and serious home cooks.
But don't wait for a party to make these. Filled with different ingredients, they just might be a way to get kids to eat more veggies!
Mini "Cheeseball" Pops
Yield: approximately 20 pops
8 ounces vegan cream cheese (I used Follow Your Heart brand though any brand–or home-made–could work as long as it is fairly firm)
1/2 to 3/4 cup dried cranberries, chopped
1/2 to 3/4 cup roasted and lightly salted shelled pistachios, chopped
1/4 to 1/3 cup thinly sliced green onion
Sea salt and freshly ground black pepper to taste
Optional: pinch garlic powder
20 straight pretzels
In a medium bowl, mix together all ingredients with a fork. Using a small scoop–or just a spoon (but a scoop is so quick!)–form 1-inch balls. Place on parchment paper (or foil or waxed paper) in a lidded carton if not serving immediately. Insert pretzel sticks, cover and refrigerate until serving time.
Recipe notes:
1) As you insert the pretzel stick, it may hit a diced ingredient and start to force the ball apart just a little. Don't panic! Just use the fingers of your other hand to gently squeeze it back together.
2) Feel free to experiment with other ingredients–though the red and green is especially pretty–maybe dates, pecans, and sliced green onions or parsley.
#vegan #veganrecipes #veganfoodshare #veganfoodporn #plantbased #plantbasedrecipes #plantbasedfoodshare #plantbasedfoodporn #veganappetizers #plantbasedappetizers #vegancheeseball #plantbasedcheeseball #veganholiday #plantbasedholiday