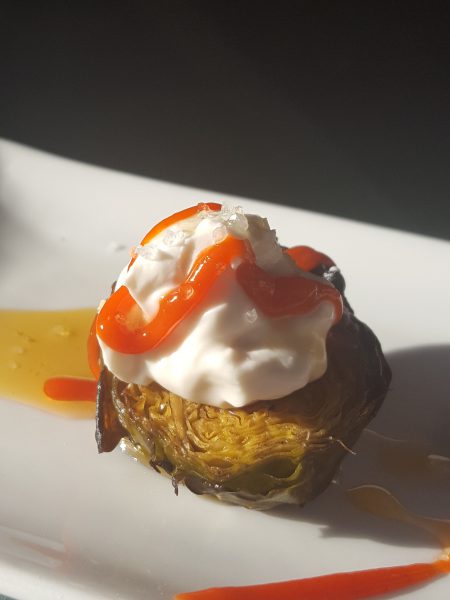 Ordinarily, I wouldn't enjoy Brussels sprouts for breakfast. However, southeast Virginia, where I live, just experienced "Snowmageddon," aka The Blizzard of 2018, and the light is absolutely breathtaking.
So I knew I wanted to do a photoshoot this morning to take advantage of the glorious glistening out the window.  And I certainly wasn't going to allow these beauties to go to waste.
If you are in need of a quick, drop-dead gorgeous, and delicious appetizer–or breakfast (just kidding)–look no further.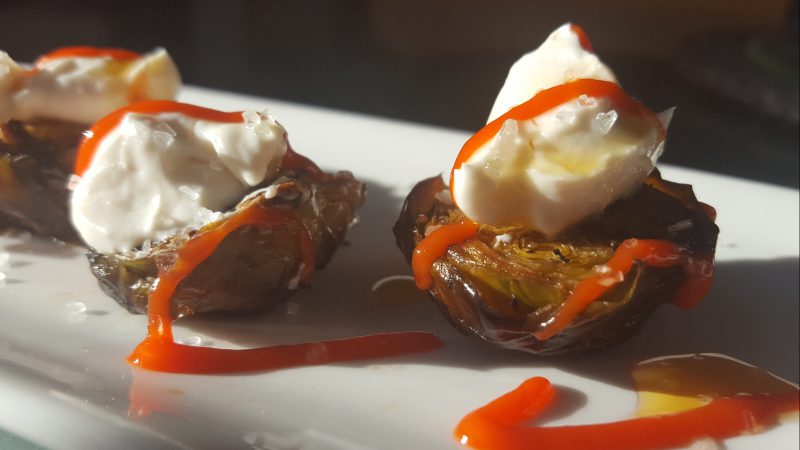 Simply top crispy roasted Brussels sprouts halves with a dollop of softened vegan cream cheese or nut cheese, homemade or prepared like Treeline brand, a drizzle of maple syrup from a spoon going in one direction, and a drizzle of sriracha straight from the bottle going in the other direction–almost like handwriting–and finish with a sprinkling of coarse sea salt. (Note: I am impatient and like my Brussels sprouts practically charred, so I roast them at 500 degrees with just a hint of nonstick spray or olive oil and coarse sea salt, stir them a couple of times, and watch them carefully.)
Voila! You will impress your guests and satisfy both their eyes and their appetites.