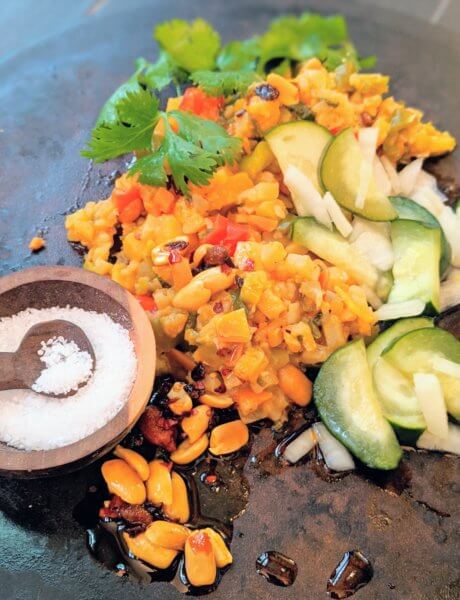 Yield: 4 servings
Hot Chili Oil is my new obsession. I made this curry as light–and tasty–as possible so I can spoon more of the peanuts in hot chili oil on top.
The dish is a sweet-spicy-salty celebration, both creamy and crunchy.
16 ounces bagged cauliflower hash (Kroger) or riced cauliflower
1-20 ounce can pineapple tidbits in juice (not syrup; do not drain)
1 red bell pepper, seeded and cut into small chunks
1 green bell pepper, seeded and cut into small chunks
1/4 cup sliced green onions
1-15.5 ounce can lite coconut milk (or regular for more flavor and fat)
2 tablespoons vegan fish sauce or more to taste (sold as vegetarian in Asian markets)
1 tablespoon soy sauce
1 tablespoon Thai red chili paste (e.g. Taste of Thai brand)
Sea salt to taste
Garnish: lightly roasted and salted peanuts heated with a generous amount of Hot Chili Oil to taste + fresh cilantro
Accompaniment: cucumber and onion salad (slice and combine vegetables with rice wine vinegar, sugar/granulated stevia blend/agave and sea salt to taste; I recommend red onion if available)
In a Dutch oven or large soup pot, combine all ingredients except garnishrs and accompaniment. Heat over medium-high until simmering. Reduce heat and simmer for 20 minutes or so, stirring frequently, until vegetables are cooked through. Serve garnished with cilantro and peanuts in hot chili oil accompanied by cucumber and onion salad alongside.
#vegan #veganrecipes #veganfoodshare #veganfoodporn #plantbased #plantbasedrecipes #plantbasedfoodshare #plantbasedfoodporn #veganthaicauliflowercurry #plantbasedthaicauliflowercurry #veganthai #plantbasedthai