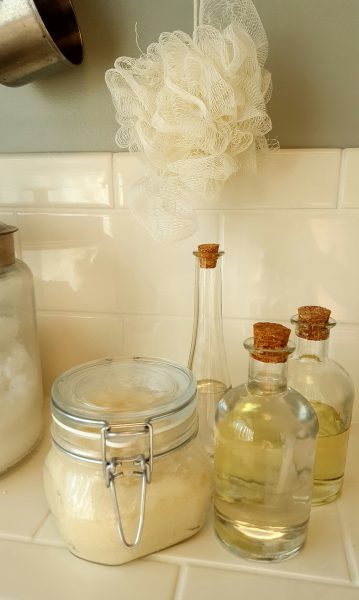 It has been a very long time since my schedule as a high school art teacher and freelance writer has allowed me to do something completely decadent for myself.
So on Saturday, with Spring Break having just commenced, I decanted oils and even mouthwash into these pretty glass bottles. Oh, and we took the Christmas Tree down–my grandmothers 1960s tinsel tree in its original box–because, yep, that is how busy we have been.  And because a two-month kitchen reno commenced right after Xmas.
While I had the food processor out to make the soup for our guests last night (the recipe for which will be on The Blooming Platter by popular demand soon), I made Bob, whose hands take a beating at his company, this amazing hand scrub.
After trying this, you will scoff at any other, often high-priced, exfoliating scrub in stores. . Bob is very discriminating about all products and we had run out of the "Seacret" salt and oil scrub my sister in law had given me. We were going to order more, but I decided to try my hand and Bob can't say enough good things about it. That is really saying something I can assure you.
You will love my recipe's perfect balance of exfoliating and softening power plus protection from the built-in emollient.  It is a little price brcsuse of the coconut oil, but lovely for gift giving decanted into canning jars.
1 1/2 cups coarse sea salt (I justbuy the Kroger brand, but experiment)
3/4 cup coconut oil (quite solid at room temp)
1/4 cup agave nectar
Optional: a drop or two of essential oil
Combine in a food processor and pulse until well combined. Or mash with fingers. Scoop into wide-mouthed lidded jars. Embellish jar as desired and give as a gift with a little card of instructions or hoard for yourself.
To use: scoop out about 2 teaspoons of sakt scrub and gently or vigorously rub all over dampened hands, feet, or elbows. Rinse with tepid water and gently blot dry with a soft towel.