Yield: 8 mini-cakes (2 1/2-inch diameter)
[for recipe, skip to bottom]
Monday, the day I went live with The Blooming Platter's fresh new look, would have been my mother's 83rd birthday. But sadly, she has passed away suddenly and unexpectedly on October 2.  My mother and I were different enough to challenge and occasionally frustrate each other, but similar enough in some of our views–you should have heard us get going on theology–and many of our passions to have long been joined by the apron strings even across the miles from Virginia to Mississippi.
Even in our shared interests, we often took different approaches.  An illustrated essay I wrote entitled, "The Sacred Canon," was published by Alimentum in June 2015 and paints a picture of my complex mother and some of her culinary dogma in which I took great delight even as it occasionally annoyed me.
I'm not sure that my mother had a favorite birthday cake.  Besides Creme Caramel,  I think her favorite dessert was ice cream–I remember from my childhood that she voted for Baskin Robbins' "Jamoca Almond Fudge" for family ice cream outings (my sister and I always begged for Dairy Queen)–and she ate a small dish with Hershey's syrup every night of her life in recent years, sitting with my father in their bedroom, each in his or her blue chair, watching a British mystery, many of which I sent them on DVD.  She claimed she had to have "food" to take her evening handful of pills.
But, I associate her with citrus flavored cakes, possibly because she used to always make an orange cake with lemon frosting for my sister's March birthday.  So, this year, I decided to create mini-memorial cakes.  I forwent the lemon frosting, though, for an orange buttercream paired with a luscious Bourbon-Pecan Caramel.  I think Mom would approve because, well, she loved her evening cocktail.  She was from that generation, you know?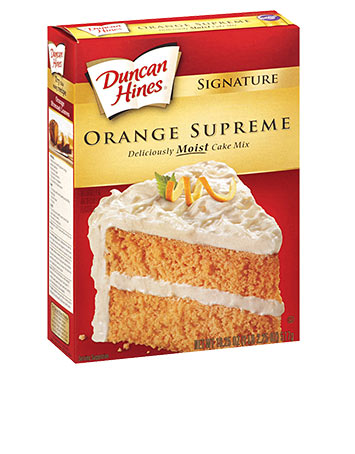 The recipe starts with a boxed cake mix because that's how I got my start baking.  In those days, there were no canned frostings, but rather boxed mixes as well, and I recall them as being superior.  Still nothing beats homemade frosting which is what I include here along with my simple-as-pie, to mix my metaphors, homemade caramel.
Orange Mini-Cakes with Bourbon-Pecan Caramel and Orange Buttercream Frosting
1-18.25 ounce Duncan Hines Orange Supreme Cake Mix
3 tablespoons flaxseed meal
1 1 /2 teaspoons baking powder
3/4 teaspoon baking soda
Zest and Juice of 2 oranges + enough water to equal 1 cup (reserve zest of 1 orange for frosting)
1/3 cup vegetable oil
Bourbon-Pecan Caramel (recipe follows)
Orange Buttercream Frosting (recipe follows)
Garnish: 8 pecan halves
Grease and flour a 9-inch metal baking pan.  Preheat oven to 350 degrees.  In the bowl of an electric mixer, combine all ingredients except caramel, frosting, and garnish.  Beat at low speed for 30 seconds or just until combined.  Increase speed to medium, and beat for 2 minutes, scraping down sides of bowl as necessary.  Transfer batter into prepared pan, gently smoothing top.  Bake for 24-27 minutes or until a toothpick inserted in the center comes out clean.  Cool in the pan on a wire rack.  Using a 2 1/2-inch biscuit or cookie cutter or even a juice glass, cut cake into 16 rounds.  Place 1 in the bottom of 8 muffin liners.  Top each with about 1 tablespoon of the cooled caramel, remaining rounds of cake, another tablespoon of caramel, and piped on or swirled frosting.  Garnish each mini-cake with a pecan half.  Serve or store in refrigerator until serving time.  Remove about 20 to 30 minutes before serving time.
Bourbon Pecan Caramel 
1/2 cup vegan butter
1 cup dark brown sugar
1/2 cup agave nectar, dark corn syrup, or maple syrup
1 tablespoon soy, almond or coconut creamer
1 tablespoon bourbon
1 teaspoon vanilla extract
1/2 teaspoon salt
1/2 cup chopped pecans
Place butter, brown sugar, agave nectar and creamer in a 2 quart saucepan over medium-high heat.  Stir until mixture comes to a simmer and then simmer gently, stirring occasionally, for 2 minutes (and no more!).  Remove from heat and stir in creamer, bourbon, vanilla, salt, and chopped pecans.  Pour into a small bowl, and allow to cool.  Cover with plastic wrap gently pressed into the surface.
Orange Buttercream Frosting 
(You will have leftover frosting.)
1/2 cup vegan butter
1/2 cup vegetable shortening
Reserved zest of 1 orange (or 1 to 2 tablespoons dried orange zest)
4 1/2 cups confectioner's sugar
Approximately 1 to 2 tablespoons soy, almond, or coconut creamer, if desired for consistency
In the bowl of an electric mixer, combine butter and shortening and beat on medium speed until fluffy.  Add orange zest followed by 1 cup of confectioner's sugar at a time, turning off the mixer in between additions, and scraping down sides of bowl.  Thin, if desired with creamer and beat to combine.  Store any leftovers, covered, in refrigerator.