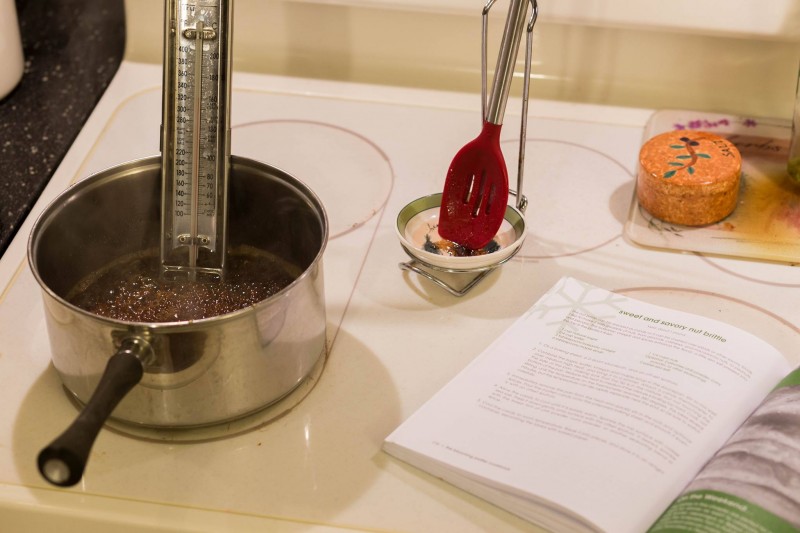 (A sequential installment from Kim Hastings, my photographer friend and, along with her vet husband, owner of Independence Veterinary Hospital, who decided on her own to cook her way through The Blooming Platter Cookbook: A Harvest of Seasonal Vegan Recipes Julie & Julia Style for her omnivorous family as a strategy for more healthy eating.)
[Betsy's note: 360 degrees on an
accurate
thermometer is the correct temperature to which the sugar syrup should be brought.  However, use your eyes and nose too in case your thermometer, like Kim's, is not properly calibrated.  You want it dark and deep amber, but obviously, not scorched.]
As I write about the events of tonight's recipe and describe my most epic fail so far, I am sitting beside an open screen door in 40 degree weather trying to air out my kitchen – my eyes watering from the smoke and the smell of burnt sugar.
I chose Sweet and Savory Nut Brittle. I was so excited about this one because I love brittle anything. Everything started out great. I oiled the pans and measured the ingredients. I dug my candy thermometer out of the drawer and brought the sugar mixture to a boil. I was standing there holding the thermometer up for about two or three minutes before I realized it had a clip on the back – how handy!!
Now I have never in my life brought a candy past the hard ball stage so this was new for me. It seemed like a very long way to go to get to 360 degrees but I was patient. Apparently, however, 360 on my thermometer is the just-before-the-smoke-alarms-go -off-and-it-bursts-into-flames degrees. (I vaguely remember now that something went wrong with the thermometer last time I used it.)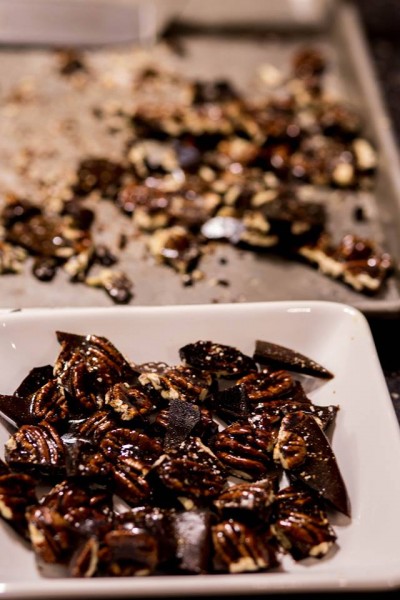 The sugar mixture was now black but I thought "Well maybe this is how brittle is done or maybe it's the balsamic vinegar – that's black." So I poured in the nuts and chili powder, stirred it and poured it on the baking sheet. I waited a little bit then pressed in the salt and then broke off a tiny piece to try. The burnt flavor was overwhelming, but being the optimistic person I am, I thought that maybe that goes away when it cools a little more. So I waited.
When it was cool enough to break, I got out the hammer and whacked it. It broke like glass and flew in different directions all over my kitchen. As I was picking it up, I tried a bigger piece and it was like scooping up a bite of ash out of my fireplace – awful!! I couldn't eat it. I wouldn't let my dog eat this fiasco. No literally! My dog was excitedly all over this one and I turned around and dug a piece of it out of her mouth. I was afraid of the potential carcinogens not to mention the sharp glass like shards cutting her mouth.
I was so disappointed (as was the dog!). I really think I should leave the candy making to someone with more experience in this field. I am positive this recipe tastes amazing when made by someone other than myself.
~Kim Hastings