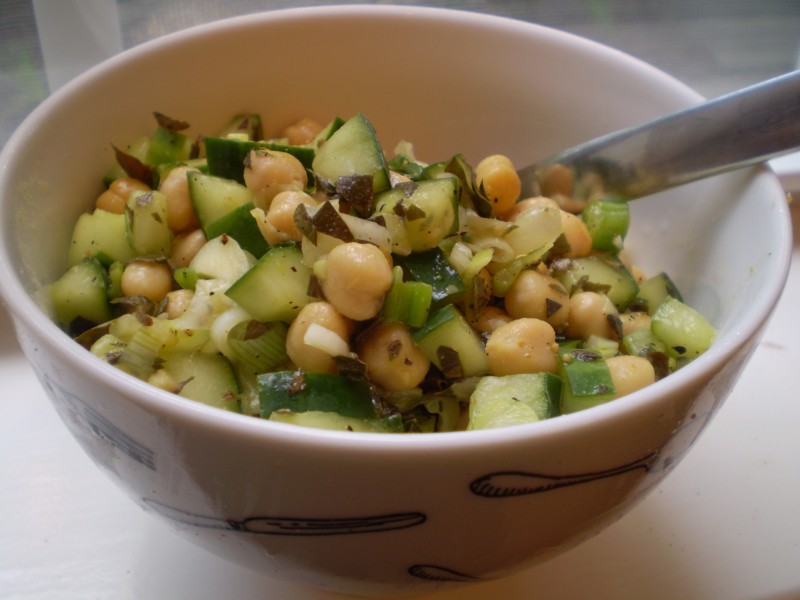 Yield: 4 servings
On a recent Saturday afternoon, I had the most lovely lunch with my magnificent friend Ann Dearsley Vernon.  A few years back, she retired after a three decade career as Education Director/Education Director Emerius of the Chryser Museum.
If possible, her calendar is fuller now than then.  Everyone loves to be in the company of this bright, beautiful, disarming, elegant, tough, and witty 73 year old.  So, in addition to a slate of social engagements, she is a highly sought-after speaker, event chair, judge and, otherwise, active volunteer committed to a number of causes near and dear to her heart, from art education to civil rights to the YWCA and more.
In my case, we were combining business with an opportunity to catch up.  The only thing that has slowed down this powerhouse in the last two years was, unbeknownst to her, congestive heart failure due to heart damage sustained during a childhood bout with rheumatic fever.
Barely 9 months ago, Ann had a heart pump known as the LVAD (left ventricular assist device) installed.  Though it dramatically changed her life in some ways, it also saved it.  Henceforth, she will forever be joined to a computer and set of batteries neatly tucked into a compact black shoulder bag that operates the pump through a wire that enters her body beneath a sterile dressing.
I had the honor of interviewing Ann about her experience with this revolutionary "HeartWare" device for an article in the Top Docs/Women's Health issue of Hampton Roads Magazine, to be published later this summer illustrated by captivating paintings she has created about her journey (think Frida Kahlo meets Marc Chagall).  (I'll be sure to post a link once it hits the stands.)
So, though she'd been jurying an art school exhibition for 3 hours, she breezed home, fetched me from her garden, and nonchalantly put together a perfectly light and perfectly delicious lunch to enjoy while we talked…and talked…and talked.
While she didn't write down how she made this bean salad—that's not her way—she described what she did and I tried to duplicate it.  I used chickpeas, as that's what I had, but her version featured creamy cannellini beans.  Either way, it's absolutely addicting.
2 tablespoons olive oil
2 tablespoon apple cider vinegar
1 teaspoon mustard
Sea salt and freshly ground black pepper
1-15.5 ounce can chickpeas (or cannellini beans), rinsed and drained
Approximately 1/2 cup finely sliced spring onions (I like a ratio of 2/3 white to 1/3 green parts of the onion)
1 medium cucumber, sliced in half lengthwise, seeds scooped with a spoon and discarded, then each half slit lengthwise in half again, and sliced crosswise into 1/4-inch pieces
3 tablespoons finely chopped fresh herbs (I used a ratio of 1:1 basil and oregano, but some parsley would also be good, so use whatever you have)
In a small bowl, whisk together olive oil, vinegar, mustard, and a pinch of salt and pepper.  Set aside.  In a medium bowl, gently toss together chickpeas or beans, spring onions, cucumber and herbs.  Season to taste with additional salt and pepper.  Drizzle dressing over, toss gently again, check for seasoning, adjust as desired, and serve immediately or chill until serving time.  Toss again before serving.