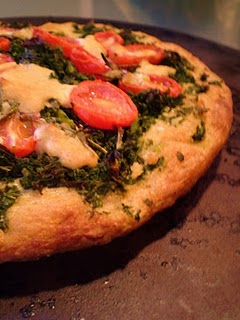 Yield: 2-7 to 8-inch pizzasAs this recipe proves, pizza can attain health food, rather than junk food, status.
After a wonderful lunch on Saturday of a beautiful potato pizza and gorgeous salad prepared by my good friend, Trish Pfeiffer, and enjoyed on her sun porch, I was craving pizza something fierce.
If you follow this blog, you know that I am a fan of "CPK Pizza Dough." However, I was out of all-purpose flour–shocking, I know–but was determined to make homemade dough. So I used half whole wheat and half self rising flour, but still used the same amount of yeast called for in order to achieve a tiny bit more "puff." My husband, the meatatarian, and I both loved it. Don't misunderstand, though, these were not "thick crust" or "deep dish" pizzas–not even close.
In the fridge was a big, tight bunch of curly kale just begging to be used. So, I minced it in the food processor, sauteed it in a little olive oil until tender with just a few crispy bits, and spooned it over a homemade Swiss "cheese" sauce. Next, I nestled grape tomato halves into the kale in a pinwheel design, dotted the top with a tiny bit more "cheese," and dabbed the surface and rim of the crust with olive oil into which I had crushed some fresh rosemary from my garden and some minced garlic.
After a mere 11 minutes and the sounding of the smoke alarm (I really need new pizza stones, as mine have a pizza residue that sometimes smokes), the pies were perfection: a crispy-on-the-outside-tender-on-the-inside crust and a beautiful moist red, white and green topping bursting with fresh flavors, colors and texture.
For this recipe and some 170+ more,
I invite you to purchase my first cookbook:
The Blooming Platter:
A Harvest of Seasonal Vegan Recipes
Vegan Heritage Press
Spring 2011