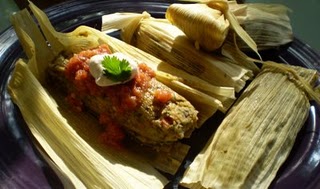 Yield: 14 tamales
Everyone loves to open a package, especially an edible one. Tamales are some of the tastiest—and easiest —savory packages to prepare. If you can tie a knot, you can make a tamale.
Heretofore, daunted by what seemed like too much work with an uncertain outcome, specialty ingredients, and the astounding amount of shortening recommended for the masa dough, I was recently encouraged to give tamales a try by an article in Food Network Magazine. In it, culinary star Ingrid Hoffmann shared her recipe for shortening-free tamales in which the dough and filling ingredients are combined instead of layered with moisture provided by prepared green salsa. Rather than masa, her recipe calls for ordinary self-rising cornmeal mix and she even demonstrated how tamales can be made in tin foil if corn husks aren't available.
Though Hoffman's Caribbean-inspired version sounded delicious, I sought a meat-and-cheese-free version with more traditional southwestern flavors, even if the approach was not completely authentic. After one dense, dry, flavorless flop, I conducted a little more research and a little more brainstorming, ultimately creating these moist bundles, bursting with flavor, color and nutrition from lots of vegetables, including cream-style corn for extra moistness, salsa and spices. A duet of ultra-simple sauces plus a sprig of cilantro crowns the tamales in the colors of the Mexican flag.
Approximately 20 corn husks (as some may split), available at local tiendas or Hispanic markets (or 14-6×8-inch squares of foil)
2 tablespoons corn, canola or olive oil
1 cup medium-fine diced yellow onion (approximately one medium onion)
1 cup medium-fine diced red pepper (approximately one medium pepper)
2 cloves garlic
8 ounces white or portabella mushrooms, wiped clean, and chopped very fine in food processor
2 teaspoons kosher salt (or to taste)
Freshly ground black pepper to taste
2 teaspoons ground cumin
1 teaspoon ground coriander
1 teaspoon sweet paprika
½ teaspoon dried oregano
¼ teaspoon smoked paprika
6 ounces ready-to-eat baby spinach, chopped very fine in 3 batches in food processor
¼ cup finely chopped fresh cilantro
Zest of one medium-large lime (save skinless lime for white sauce)
1-14.5 ounce can cream-style corn
½ cup prepared mild green salsa (salsa verde)
Optional: 2 tablespoons nutritional yeast (imparts a subtle "cheesy" flavor and a nutritional boost; available at health food and organic food stores; if omitted, you may need to add 2 additional
tablespoons cornmeal mix)
1/1/3 cup yellow self-rising cornmeal mix
Fill a large mixing bowl with hot water and separate husks into bowl, submerging them with a plate. Allow to soften for 30-45 minutes. Meanwhile, heat oil in a large cast iron skillet over medium-high. Add onion and bell pepper, and sauté, stirring frequently, until onion is softened and starting to turn golden. Add garlic, mushrooms, salt, pepper and spices, and sauté, stirring frequently, for a few minutes or until garlic and mushrooms are softened and starting to break down. Remove from heat and stir in remaining ingredients, except cornmeal mix. Taste and adjust seasoning if necessary. Then stir in cornmeal mix until well-combined. (The latter is not very tasty raw.) The consistency should be similar to a juicy brownie batter. Tear 3-4 of the corn husks into 1/4-inch wide strips and double-knot two strips together, overlapping ends by about 1 ½ inches. Set aside. Working with one corn husk at a time, remove it from the water onto a kitchen towel, wide end up. Spoon approximately 3 tablespoons of filling (4 for really large husks) into a 1½ x 4" long log-shape in the center of the husk, starting about ¼-inch from top edge and stopping about 2/3 of the way down. Fold one side of husk snugly over filling, and repeat with the other side. Hold husk in place while you fold the bottom third up. Still holding husk to prevent it opening, slip a knotted strip under the tamale, bring ends of strip up and over the front of the tamale and double-knot to hold folded end in place. Set aside, slightly propped up if necessary to prevent filling from spilling out. (Use the same procedure if using foil, but skip the tying step.) Repeat with remaining husks and filling. When about halfway through, fit a deep pot with a steamer, run water just to the underside of the steamer, cover tightly, and place over medium-high heat. When all tamales have been tied, remove pot lid carefully to allow steam to escape and place tamales into steamer as vertically as possible, leaning them against the sides of the pot and each other. Reduce heat to medium, replace lid and steam for 30-45 minutes or until just firm. Remove lid and use tongs to carefully remove tamales to a platter or plates. Allow to rest for 5 minutes before serving warm with sauces and fresh cilantro. Diners should remove ties, open husks, top as desired, and eat tamales while resting on husks, but they should not eat the husks themselves.
Red Sauce
½ cup prepared mild green salsa
2 Roma tomatoes, rinsed, dried and quartered
Kosher salt and freshly ground black pepper to taste
Process together in the bowl of a food processor until chunky-smooth. Pour into a small dish and pass for spooning over opened tamales. You may heat sauce if desired.
White Sauce
½ cup vegan sour cream (dairy sour cream may be substituted)
Juice of one medium-large lime
Kosher salt and freshly ground black pepper to taste
In a small bowl, whisk together until well combined. Pass for dolloping on top of Red Sauce.
Garnish: whole or chopped fresh cilantro sprigs