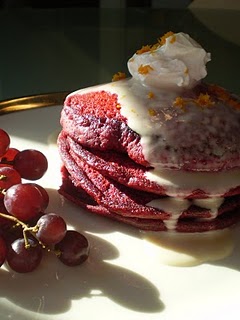 Yield: 8 pancakes
I love Red Velvet everything. Ever since childhood and the first taste of my Aunt Bessie's signature cake of crimson layers swathed in fluffy white frosting with a Jackson Pollock-style drizzle of bittersweet chocolate, it has been my favorite. As beautiful as it is delicious, I chose it as the groom's cake for Joe's and my wedding, and I made an especially baroque one as the wedding cake for our good friends Donna and Art. Plus no one who saw "Steel Magnolias" could forget the Armadillo cake.
Over the years, I've created Red Velvet versions of anything I could think of from cookies to shortcakes. I even won a prize in a Better Homes & Gardens recipe contest with one version of the cookies.
Presuming I would create a menu and recipes for a romantic dinner for two for February's "Veggie Table" column in the Virginian-Pilot, I immediately changed my mind when I learned that Valentine's Day fell on a Sunday. Instead, I started thinking of family-friendly breakfasts, conceiving of and rejecting several ideas in favor of Red Velvet Pancakes. (But my Vegan "Sausage" and Red Bell Pepper Puff Pastry Heart Tarts would be a delicious savory accompaniment.)
First I conducted a little on-line research and, not surprisingly, there were a number of non-vegan iterations, including some from a couple of California restaurant that folks raved about, but none were right. Either they were pink, were too thin, or had an odd-looking texture. Quite honestly, only one that I found appealed: a very romantic and lovely photo with a recipe on someone's blog, but they were not vegan. Still, it was the look I was after and I knew it could be done dairyless.
So, I turned to the go-to pancake formula that I developed, complete with some whole grain goodness, and then added the key Red Velvet ingredients. After a couple of adjustments, they were ready to cook and boy-oh-boy, can I just tell you: I ate all four from my photo shoot for breakfast. They are the exact shade of deep red that any self-respecting thing calling itself "Red Velvet" ought to be. And they have the characteristic flavor profile of a slight tanginess and an almost imperceptible, yet undeniable, hint of cocoa. Granted, there is more sugar in this recipe than in most of my pancakes, but it is needed to balance the tartness of the vegan "buttermilk" and the appealing bitterness of the cocoa powder.
I hope you and your loved ones, young or old, enjoy them just as much as I did. Happy Valentine's Day!
1 ½ cups unsweetened soy milk less 1 ½ tablespoons (plain or vanilla soy milk or lite soy milk would also be good)
1 ½ tablespoons apple cider vinegar or white vinegar
½ cup whole wheat flour
3/4 cup self-rising flour
½-3/4 cup granulated sugar
2 tablespoons cocoa powder
½ teaspoon baking powder
¼ teaspoon baking soda
1-1 ounce bottle (2 tablespoons) red food coloring
Vegan butter and/or vegetable oil for frying
Vegan Sour Cream-Maple Syrup (recipe follows)
Optional Garnish: additional vegan sour cream, orange zest, vegan chocolate chips
Optional Sidecar: fresh or frozen thawed fruit
Preheat oven to warm. In a small bowl, whisk together soy milk and vinegar and set aside to curdle. In a medium mixing bowl, place next 6 ingredients. Make a well in the center and pour in soy milk and food coloring. Stir together with a fork until well combined. In a large cast iron skillet or griddle over medium-high heat, melt 1 tablespoon of the vegan butter, oil or a combination. Using a 1/3 cup measure, make pancakes, one at a time if using a skillet, as this batter tends to spread, but it rises nicely. Cook a couple of minutes on the first side until quite a few bubbles appear and the edges appear set. Gently flip and cook another couple of minutes on the reverse. Add butter and/or oil to keep skillet greased as needed. If pancakes are cooking too quickly, lower heat to medium, especially for second side. When cooked through, remove pancakes to plates or a serving platter, keep warm, and repeat with remaining vegan butter and pancake batter. Note: for smaller pancakes that allow you to cook two at a time in a skillet and more on a griddle, use a ¼ cup measure. Serve warm with Vegan Sour Cream-Maple Syrup, an extra dollop of vegan sour cream, and a garnish of a little orange zest and/or a very few vegan chocolate chips, along with a sidecar of fresh or frozen thawed fruit.
Vegan Sour Cream Maple Syrup:
4-6 tablespoon vegan sour cream
4-6 tablespoons pure maple syrup
a squirt of lemon juice (optional)
Whisk together and, if desired, heat gently in microwave for a few seconds. Note: you can make as much syrup as you like; just whisk together equal parts vegan sour cream and syrup and adjust lemon juice accordingly.