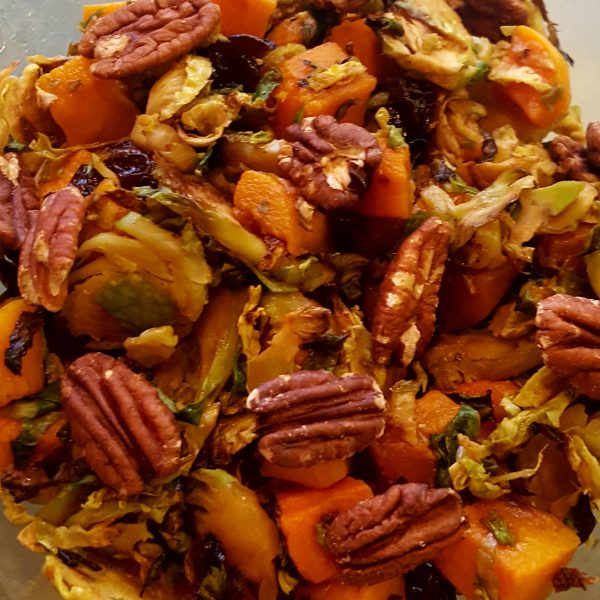 Yield: 4-6 servings
Best. Thanksgiving. Salad. Ever. And, you guessed it: it is low fat–with no added oil–and oh-so-low calorie.
12 ounces shaved Brussels sprouts
12 ounces diced butternut squash
1/4 cup dried cherries
1/4 cup pecan haves, roasted for 5 minutes at 350 degrees or until lightly toasted
Sea salt and freshly ground black pepper
Juice of 1 large orange
2 tablespoons apple cider vinegar
2 tablespoons balsamic vinegar
2 tablespoons maple syrup
Spread brussels sprouts and butternut squash on a large rimmed baking sheet and roast in a preheated 450 degree oven for about 20 to 25 minutes or until slightly caramelized. Place in a large bowl, add dried cherries and pecan halves, and season with salt and pepper. Whisk together orange juice, vinegars, and maple syrup, drizzle over salad, and toss gently to coat. Refrigerate until serving time if necessary. Best served slightly warm or at room temperature.
Happy Thanksgiving from the Charlotte airport!
#vegan #veganrecipes #veganfood #veganfoodshare #veganfoodporn #plantbased #plantbasedrecipes #plantbasedfood #plantbasedfoodshare #plantbasedfoodporn