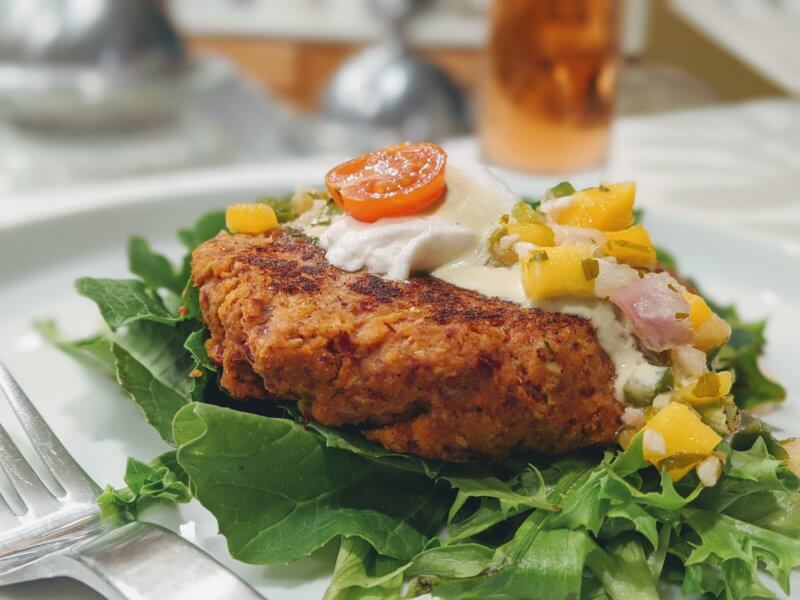 You need no other veggie burger recipe. Enough said!
1-15.5 oz can dark red kidney beans, rinsed and drained
2 cups loosely packed prepared broccoli slaw mix
1 cup panko bread crumbs
1/2 cup red onion cubes or when small red onion, cubed
1/4 cup Chipotle – lime peanuts for your choice of nut
1 tablespoon vegan Worcestershire sauce
1 to 2 teaspoons sea salt or to taste
1 teaspoon ground cumin
1 teaspoon smoked paprika
1/2 teaspoon garlic powder
1/2 teaspoon onion powder
Place all ingredients in a large food processor and pulse until all ingredients are finely minced and mixture comes together almost like a dough. Shape into four patties about 1 inch thick. Refrigerate, covered, or cook immediately. Oil skillet or grill pan and top side of patties with non-stick spray. Cook two to three minutes on each side of a medium height heat or until golden brown and heated through.
Serve with or without a bun (I like to go bunless over a bed of greens), topped as desired. My toppings of choice include no calorie mayo, a prepared mild vegan jalapeno sauce, pineapple-mango salsa, and a halved cherry tomato.
#vegan #veganrecipes #veganfoodshare #veganfoodporn #plantbased #plantbasedrecipes #plantbasedfoodshare #plantbasedfoodporn #veggieburger #veganburger