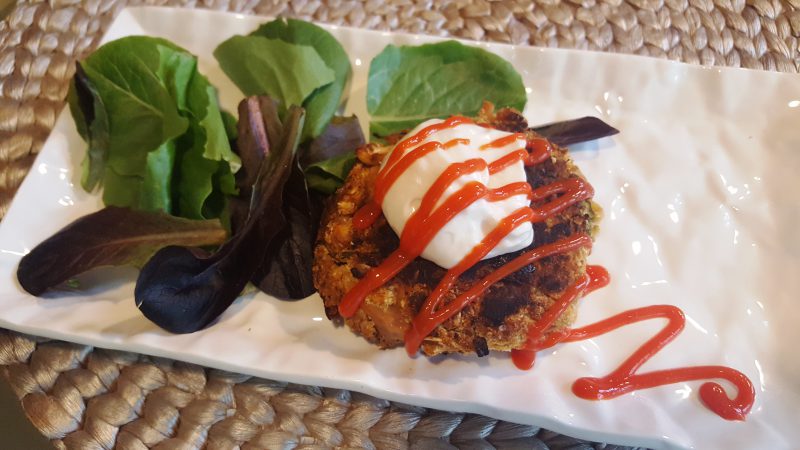 I confess that this post is more of a general idea and place to start than a bona fide recipe.
These White Bean, Sweet Potato, and Black Olive patties were delicious and I wish I could share the recipe.  I just don't know what amounts of ingredients were used because of the permutations this dish went through.
Still, the combination and end result was too satisfying not to share, even without specific proportions.  And I discovered a brilliant ingredient to help veggie patties hold together without egg.  So, I encourage you to start with these ingredients, have some fun, and create your own patties.  And please write down your amounts so that YOU can share with US.
These particular patties began their lives as a scrumptious salad that a friend brought to a potluck I hosted.  She is a vegetarian foodie who specializes in flavorful vegan salads; this particular one called for:
Cannellini beans (canned), rinsed and drained
Salt-cured black olives
Olive oil
Fresh lemon juice
Fresh sage leaves
Sea salt and pepper to taste
She tossed it all together and it was lovely, but there was some left over, so she put a carton of it in my fridge.  I enjoyed a bit of it that way.  But,then, another day, wanting to use some raw spiralized sweet potato I had on hand (a sensational new ingredient in local grocery stores), I folded in a healthy amount of that.  A favorite Thanksgiving recipe from the past calls for sweet potato and cannellini beans, so I knew I liked that combination.  I then added a bit more lemon, sage, and a bare hint of maple syrup to balance the lemon.  My riff on Trish's salad did not disappoint.
But now I had even more salad.  I love leftovers as much as the next gal but I was beginning to tire of it.  So, really tasty though it was, I decided that I wanted a new iteration to enjoy.  It occurred to me that the mixture might make delicious patties, but it would need to stick together a bit better.
Having used both old fashioned oats and nuts of various types in my Blooming Platter Burgers, I added some oats and raw cashew pieces.  And having used coconut flour in another recipe, I knew that it was especially good for absorbing moisture, so I added a bit of that.  What a great addition both for texture and taste:  the natural earthy hint of sweetness complemented all of the rest of the ingredients.
If I had to guess, I would say that I added about 1/4 cup to 1/3 cup of oats, cashews, and coconut flour to about 1 ½ cups of the bean-olive-sweet potato mixture, formed it into four patties, about 1-inch thick, and pan fried both sides over medium to medium-high heat for a couple of minutes in a skillet liberally coated with non-stick spray.  As you can see in the photo, I dressed it simply with baby greens, a dollop of vegan mayo, and a decorative squirt of sriracha.
So, start with these or similar ingredients, don't forget the coconut flour, strive for a consistency similar to firm cookie dough, and make some bean burger magic of your own.