Note vegans, vegetarians, and omnivores: if you have a peanut allergy, substitute the nut of your choice OR an additional half-cup of flour.  And if spicy isn't your jam, feel free to use plain nuts or more mildly seasoned ones.  Have fun exploring and matching different nuts with different vegetables in the filling.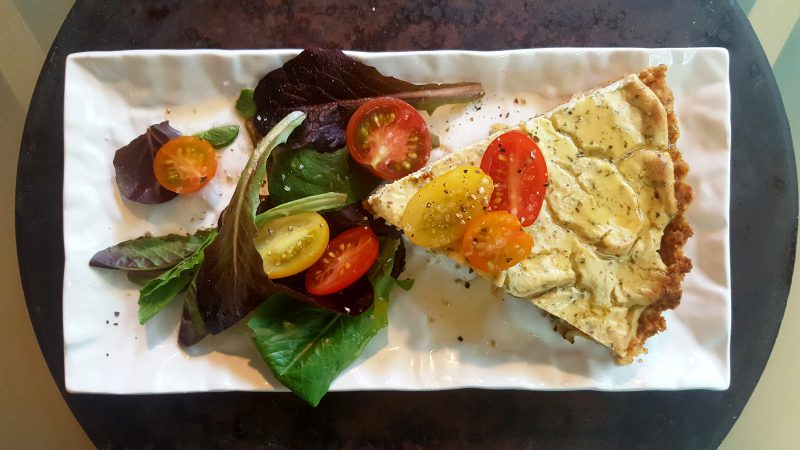 Wraps are all the "wrage" and have been for at least a couple of years.  Me?  Not a wrap girl.  Not much of a sandwich gal either, and I prefer my (vegan) burgers as a lettuce wrap.  I'm not carbphobic, but I am just not much of a bread eater…that is, unless someone places some top shelf foccacia and olive oil in front of me.  Generally I prefer to consume my calories in other forms.
So a savory tart perhaps?  Now we're talking.  Yes, it requires a fork, but that's a small sacrifice to make from my perspective.  And my "no fail" press-in tart crust may make a convert out of you.  Especially with its 2-layer filling–vegetables on the bottom, creamy custard over the top–that goes together in a snap.  Using half water and half oil in the crust does not adversely affect the finished product and dramatically reduces calories.
For the filling, use whatever vegetables you prefer, but be sure to include some kind of onion, green onion, or shallot, if not the leek that I favor (probably a nostalgic nod to my late mother's leek quiche).
Vegan "No Fail" Press-In Spicy Peanut Pie Crust:
1 cup flour (white, whole wheat, or white whole wheat)
1/2 cup spicy peanuts (I purchase at Whole Foods, but substitute another nut, another flavored nut, or an additional half-cup flour)
2 tablespoons unsweetened non-dairy milk (I use soymilk)
4 to 6 tablespoons water
4 to 6 tablespoons vegetable oil
Preheat oven to 400 degrees.  In a food processor, pulse flour and nuts together to make a course meal.  Add non-dairy milk, and pulse a few times.  Then, add 4 tablespoons each water and olive oil and pulse to form a moist dough that clumps nicely, but is nowhere near a batter.  If needed, add up to two more tablespoons of both water and oil.  Turn out intoan  8-inch tart pan with removable bottom and press evenly onto sides and bottom. Place tart pan on a baking sheet to avoid drips and bake for 10 to 12 minutes or until set and lightly browned.  Remove crust from oven and leave oven on.
Filling:
1 tablespoon olive oil
1 small leek, washed and thinly sliced (white bulb and about half of the green part, removing and discarding coarser ends
2 cups spiralized or sliced/diced vegetable(s) of choice (I like zucchini or yellow squash especially well, but experiement)
Sea salt
Freshly ground black pepper
14 ounces firm or extra firm tofu, drained
1/2 cup unsweetened nondairy milk
Zest of 1/2 a large lemon
1 tablespoon vegetable base or 1 vegan/vegetable bouillon cube
1/2 teaspoon grainy mustard
1/2 teaspoon garlic powder
1/2 teaspoon onion powder
Garnish: baby or micro greens, halved tri-color cherry tomatoes, a drizzle of olive oil, maple syrup, or balsamic reduction, flaky finishing salt like Maldon or just more sea salt
In a large skillet over medium to medium high, heat olive oil.  Add leeks and saute for a couple of minutes, stirring frequently.  Add spiralized vegetables and a pinch of salt and pepper, and continue sauteeing for a couple of minutes or until tender.  Transfer into bottom of crust and distribute evenly.
Place all remaining ingredients except garnish in the bowl of food processor and process until smooth, scraping down sides of bowl as necessary.  With a rubber spatula, distribute mixture over the vegetables in the crust and gently smooth the top.  Bake 15 to 20 minutes or until set.  Remove from oven and let rest for at least 10 minutes.  Carefully remove sides of pan and serve slices warm or room temperature garnished with a few baby or microgreens and tomatoes; a scant drizzle of oilive oil, maple syrup, or white balsamic reduction; and a sprinkling of flaky salt.