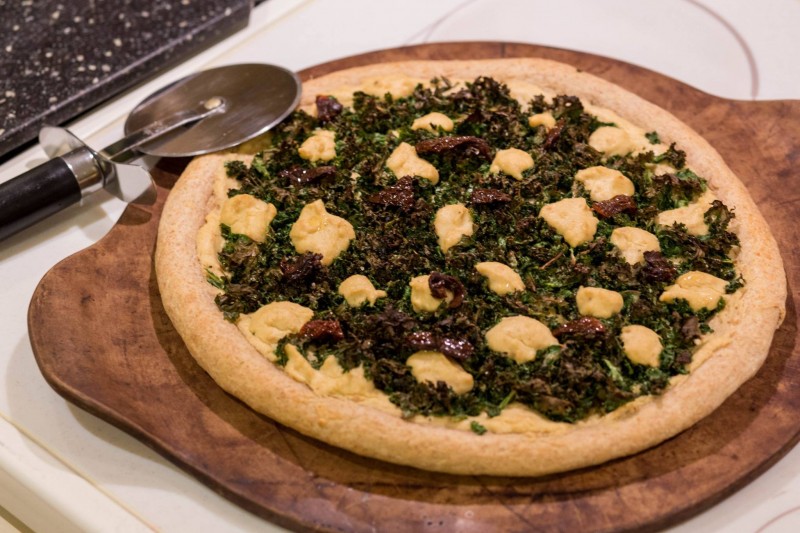 (A sequential installment from Kim Hastings, my photographer friend and, along with her vet husband, owner of Independence Veterinary Hospital, who decided on her own to cook her way through The Blooming Platter Cookbook: A Harvest of Seasonal Vegan Recipes Julie & Julia Style for her omnivorous family as a strategy for more healthy eating.
Today I have a lot to write about, so grab a cup of coffee and get comfy. Tuesday night, Betsy DiJulio, the author of The Blooming Platter Cookbook, came to my house to cook with me!! So excited!!
Of course I did the usual when someone is coming over – vacuum up the dog hair, clean the bathroom (remember I have boys!) and clean my kitchen. But I wanted to impress so I chose an appetizer and a dessert from the book to make beforehand. I chose Orange-Espresso Chocolate Chip and Hazelnut Cookies. I followed the recipe exactly being super careful not to inadvertently put something non-vegan in them. Everything was going well until I went to get my coffee beans out to grind one teaspoon of espresso powder. I could not find them anywhere. I love those beans. I had bought them at a little coffee roasting shop on the way to Luray, VA – but they were nowhere. So I racked my brain to come up with an alternative. Finally I ripped open a little Keurig cup and ran it through my grinder to make it into powder. It worked! One teaspoon of "espresso" done!
Next step was the chocolate chips. That's when I saw the word "vegan" before the words "chocolate chips". Noooooo!! I had not even considered that my chips were not vegan. Since I didn't have any idea where to start looking for vegan chips, I was not going to the store so I divided the dough in half. One half gets real chocolate chips and the other will be Orange "Coffee" Hazelnut Cookies. (Thankfully she brought an amazing dessert so we didn't need them.) I did, however, bake a test batch before dinner and I must say that these cookies are incredible. I have a hard time believing that this dough does not have eggs. They bake up just like any other cookies. My son looked skeptical and politely declined them but later I found the half empty container on the counter so he must like them too.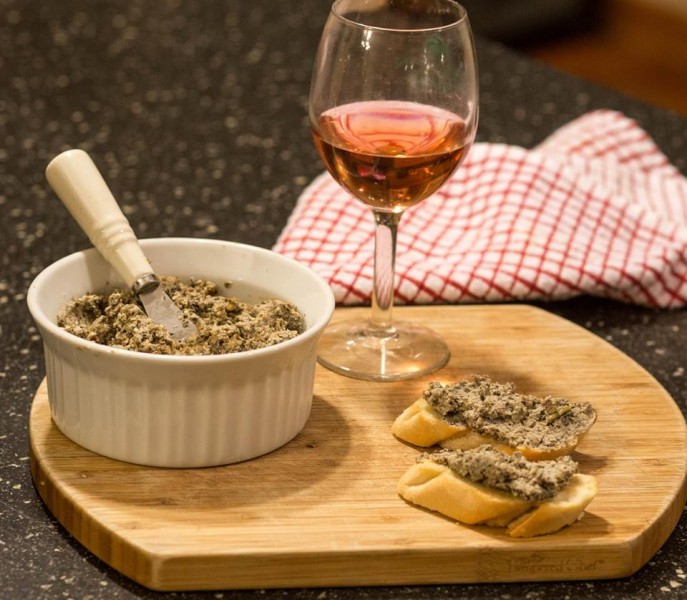 The appetizer I chose was Sherried Mushroom Bruschetta. I have been looking forward to trying this recipe for a while – it sounded so good! I loved putting this together with the obvious exception that I had to use my dumb food processor. Later in the evening I did learn that silken tofu is different than the refrigerated tofu I used but no matter – I think it came out great. [Betsy's note: it was perfection!] I got a bit heavy handed with the red pepper flakes but no one seemed to mind. My son only had a problem with the gray color but once he tasted it, he was sold.
So now my preparations are done…until I sat down and read through the recipe we had chosen to make. The pizza dough for the Kale and Sundried Tomato Pizza takes two hours to rise! I decided if I didn't take this part on by myself we would not be eating til 10 PM. Even though I have never made pizza dough, I put on the how-hard-can-it-be attitude and got busy. And it really wasn't too hard. I did not cheat either. I really used wheat flour. I had bought this to make dog biscuits a while ago and it was sealed up in the back of my cabinet. Nothing flew out of it when I opened it so we were good to go.
As soon as I got the dough set up to rise, Betsy arrived. She came in with an amazing looking cake roll with salted caramel icing. OK we can skip dinner now! It turned out to be a girl's night since my husband was out for the evening and my son left for his Krav Maga class. (Oh, before he left, he pulled out a container of pork BBQ leftovers from the fridge and starts eating it out of the container right there in the kitchen. I was cringing, hoping Betsy wouldn't notice…but she did. She was so cool about though. And that's my family!!).
Anyway we chose a wine and started cooking. She promised me I would love the kale but I was skeptical watching her cut it up. She insisted I try it raw. She ate hers, but mine ended up in the sink. Sorry! I couldn't even pretend to like it raw. Not good! Next she started the "cheese." This was not my area – you know how much I cheat with real cheese – so I stepped back and watched her make it. I loved it! Would I give up my cheese for it? No, but I really loved it.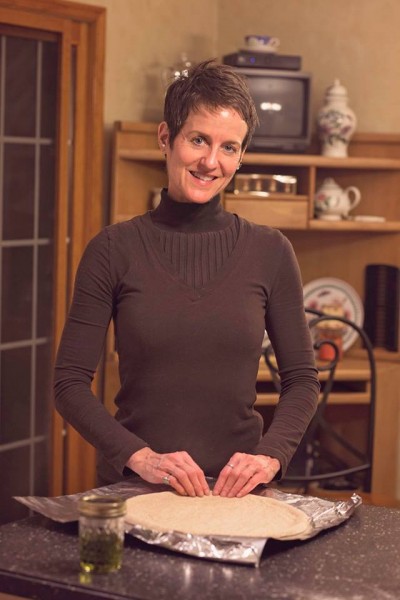 When the dough was done rising, she showed me how to press it out by hand into a circle. Then we prepared the pan to sauté the kale – I forgot to turn the burner on but that was the only glitch. We put the pizza together and got it into the oven. Then we got to just hang out, she met my turtle, Desiree, and we went outside to check out my herb garden. My dog Allie was already her best friend at this point. Before long the pizza was out of the oven and ready. We took some pictures (of course!) and then served it up.
My son was back from class at this point and joined us for dinner. We loved the pizza! Even with kale!! It was flavorful and salty and the kale was very tender. We agreed later it may have been too salty because I only had course sea salt and no grinder. [Betsy's note: totally my fault; I cook with coarse sea salt and I just wasn't careful–must have been the wine and the great conversation.]   My husband was quick to point out the saltiness too when he tried it later – this from a guy who snacks on bouillon cubes?! Really?
The time finally came when I could try the cake she brought. OMG! So good! As soon as she posts that recipe I will be lifting it right off her website.
We had so much fun cooking and laughing together but the time came when she did have to get back home to her puppies. I loved learning so many new ways of cooking healthier. I love that she is so non-judgmental about my family's food choices and is supportive of how I am incorporating her amazing recipes into my way of life. She is one of the sweetest, most gracious people I know and I am glad I can call her my friend. It really was a great evening.
~Kim Hastings