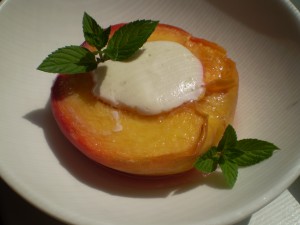 Yield: 8 servings
Okay, I admit it, I shamelessly "lifted" this idea straight out of a recent culinary magazine.  I don't even know which one.  And I didn't even read the recipe–which was non-vegan–I just saw the title and the picture, and then raced as fast as I could to our local farmer's market for the biggest, juiciest, ripest local peaches I could find. 
The concept is so simple, yet so brilliant; I don't know why I hadn't thought of it by now, epecially since I live in the land of peach perfection.  Little dollops of vegan cheesecake batter–so little you don't even need to feel guilty–are baked inside the depression left by removing the stone.   That's it.  I simply garnished mine with sprigs of fresh mint, but you could drizzle with a sauce or liqueur, add a dollop of vegan whipped cream, or sprinkle with berries and/or nuts. 
To my way of thinking, though, all of that is just guilding the lily.  Trust me, it just doesn't get much better than this dessert in its purest form.  Two friends who popped by yesterday, separately, for impromptu visits swooned.  Hope you do too!
Note: you will have extra batter, probably enough for 8 more peach halves which, short of a large gathering, is too many to have on hand.  However, unless you have a petite food processor, it's a little difficult to work with half this amount of cheesecake ingredients.  So I would just get creative with the leftovers.  You can use it as a sauce or bake it up in a couple of little tart shells.
8 very large ripe, but still firm, peaches, cut in half lengthwise and pitted
1/2 of a 12-ounce block of Silken firm tofu
4 ounces of vegan cream cheese
1/4 cup natural sugar or to taste
1/2 cup soymilk (unsweetened or plain)
1 tablespoon fresh lemon juice + more for brushing on cut peaches (if you want a more pronounced lemon flavor, add the zest of half a lemon rather than more juice)
1/2 teaspoon vanilla extract
1/4 teaspoon almond extract
Pinch sea salt
Garnish: fresh sprigs of mint or lemon verbena
Preheat oven to 350 degrees.  Oil a large glass or ceramic baking dish with non-stick spray.  Using a small scoop, hollow out a tiny bit more of the center of each peach half to make a large enough depression to hold a generous tablespoon or so of cheesecake batter.  (Just nibble on what you scoop out; it won't be enough to save.)  Brush cut/scooped surfaces of peaches with lemon juice.  Set aside.  Make filling:  place all remaining ingredients except garnishes in the bowl of a food processor.  Process until smooth, scraping down sides of bowl as necessary.  Fill each peach depression with a generous tablespoon or so of cheesecake batter and bake for 30 minutes or until set and slightly less shiny.  (Check after 20.)  Do not overbake.  Remove the pan from the oven and carefully transfer the peaches to individual serving bowls.  Allow them to cool to room temperature, cover, and chill for an hour or so in the refrigerator before serving.  Garnish with mint sprigs and serve.  (I was in a rush to try them, so I transferred them straight from the oven to uncovered bowls to the refrigerator and chilled them for about 30 minutes before serving.)