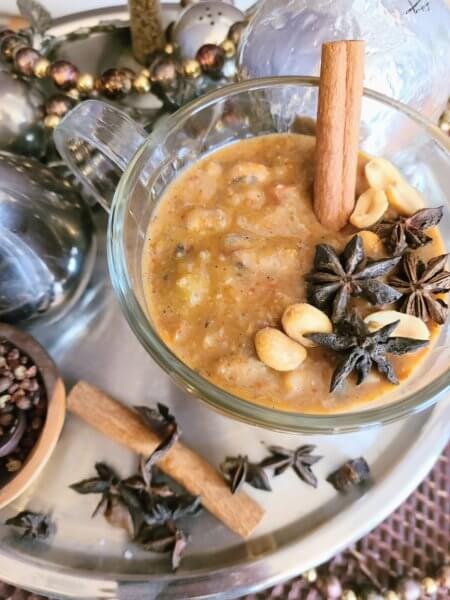 It is fair to say I am obsessed with the Tofu Braised in Hot Chili Oil at Judy's Sichuan, a great local restaurant. But with its big cubes of deep fried tofu, it is a fairly high calorie dish. So I have created a profusion of ways to incorporate the flavor profile into healthier dishes, including popcorn and even popcorn salad, a whole grain-based salad like no other.
I created this warming and pleasantly *lip numbing soup so that we could enjoy our black eyed peas on New Years Day with punched-up flavor. Though Bob and I have been very fortunate during the Covid19 pandemic, I felt I should enjoy a bowl of this good luck omen on behalf of this beleaguered world.
While I made the soup for the holiday, please enjoy it any day for any reason. These humble black eyed peas are remarkably tasty with their unexpected twist.
*Sichuan peppercorns, not peppers at all, possess a numbing property that is not due to heat and, in fact, enhances other flavors.
Sichuan Black Eyed Pea Soup
Yield: 4 servings
1 teaspoon sesame oil
1/2 yellow onion, diced
1/2 red and 1/2 green bell pepper, diced
1 teaspoon sea salt
1 to 2 teaspoons ground Sichuan peppercorns (I purchase at Asian grocery)
2 large cloves garlic, peeled and thinly sliced on diagonal
2 inches fresh ginger, peeled and thinly sliced on diagonal
1 to 2 tablespoons Chinese hot chili oil or fried chili crisp (I purchase the latter at Kroger on International aisle and use as is or make my chili oil from it)
2 cups fresh black eyed peas (you may substitute canned, rinsed and drained, or cooked dry peas)
1-15 ounce can lite coconut milk and 1/2 can warm water
Optional Garnishes: scallions, thinly sliced on diagonal, lightly roasted and salted peanuts, star anise
Cover bottom of soup pot with water, add sesame oil, and place over medium heat to bring to simmer. Add onion and bell peppers, sprinkle with salt and ground Sichuan peppercorns, and simmer, stirring frequently, until tender. Add garlic and ginger and cook, stirring, for a couple of minutes. Add remaining ingredients and cook, stirring occasionally, until flavours have married, peas are very tender, and soup is heated through, approximately 20 minutes. Adjust seasoning to suit your taste and add more water if needed. If desired, puree 2 cups of soup and pour back in, stirring to distribute. The soup will be less colorful, but creamier; I enjoy it both ways. Serve in mugs or bowls garnished as desired.
#vegan #veganrecipes #veganfoodshare #veganfoodporn #plantbased #plantbasedrecipes #plantbasedfoodshare #plantbasedfoodporn #plantbasedSichuan #veganSichuan #veganblackeyedpeas #plantbasedblackeyedpeas #veganblackeyedpeasoup #plantbasedblackeyedpeasoup