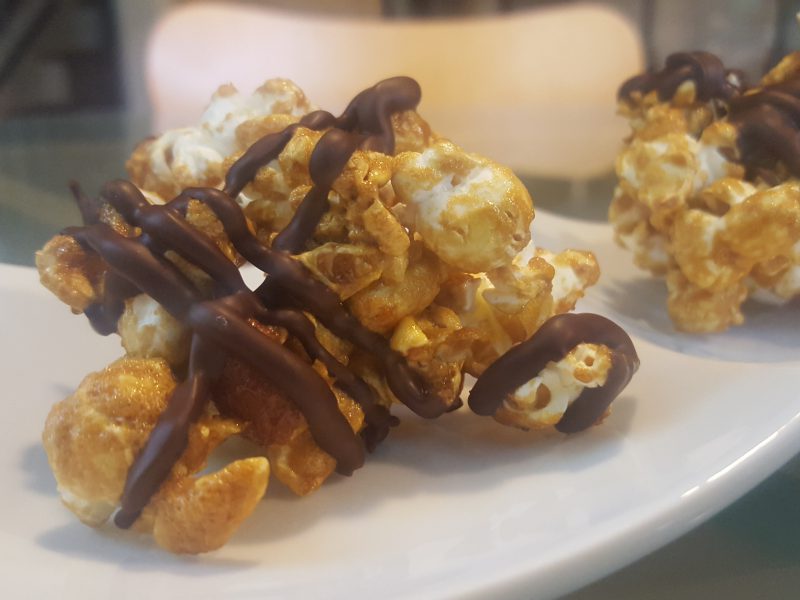 Let's be honest…this is an outrageously delicious occasional splurge, not health food, despite being vegan. I have reduced the calories by using Skinny Pop, Stevia Baking Blend and Smart Balance Light, but I am not going to share the calorie count because it is still alot. Make a batch and enjoy a little to satisy your craving, but then share small bags with friends, as I did.
4.4 ounce bag Skinny Pop popcorn
1 cup roasted and lightly salted cashew halves and pieces
1/2 cup roasted and lightly salted almonds
3/4 cup Smart Balance Light (made with Flaxseed Oil–other SB are not necessarily vegan)
1 cup Stevia Baking Blend
2 tablespoons molasses (not blackstrap)
1/2 cup light corn syrup
1/4 teaspoon sea salt
Chocolate Drizzle
1 cup vegan dark chocolate chunks or chips
1 teaspoon vegetable oil
Preheat oven to 275 degrees.  Line a baking sheet with waxed paper, parchment paper, or Silpat and set aside on wire rack.  Combine popcorn and nuts in large roasting pan.
In medium saucepan, combine Smart Balance, Stevia, molasses, corn syrup, and sea salt.  Bring to a boil over medium heat, reduce heat to a simmer and cook, stirring, for 2 minutes.  Drizzle over popcorn and nuts, stir to combine, and bake for 50-60 minutes, stirring every 15.  Spoon onto prepared baking sheet and cool completely.
Melt cocolate with oil in microwave safe bowl in microwave in 30-second intervals, whisking after each. Transfer melted chocoalte to sandwich bag, seal, snip corner, and drizzle over caramel corn in a zig-zag motion. You may alternatively use a reusable pastry bag fitted with circular tip.
Let sit at room temperature about 3 hours or until chocolate is set. Store in an airtight container or sandwich bags.
#vegan#veganrecipes#veganfood#veganfoodshare#veganfoodporn#plantbased#plantbasedrecipes#plantbasedfood#plantbasedfoodshare#plantbasedfoodporn