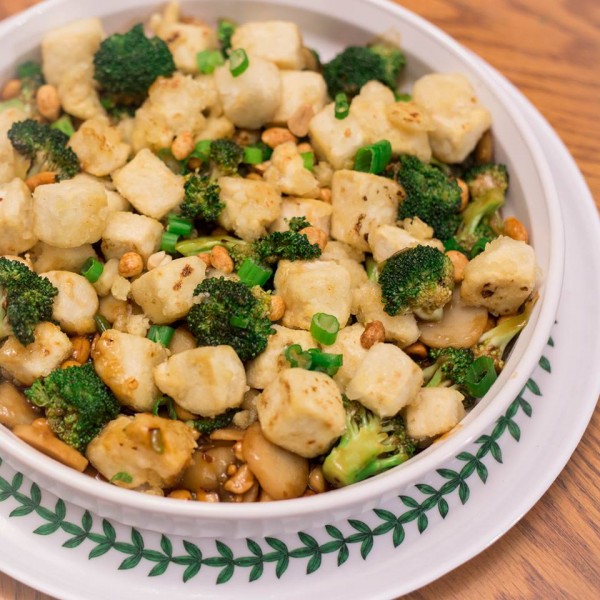 (A sequential installment from Kim Hastings, my photographer friend and, along with her vet husband, owner of Independence Veterinary Hospital, who decided on her own to cook her way through The Blooming Platter Cookbook: A Harvest of Seasonal Vegan Recipes Julie & Julia Style for her omnivorous family as a strategy for more healthy eating.)
I have had the Kung Pao Broccoli and Tofu recipe on my list for the last two weeks and replaced it each time. I have looked at it so many times that my book opens automatically to it now. Why have I been putting it off? Maybe it was the tofu, but I conquered my fear of that a few days ago so I'm doing this recipe today.
My husband is thrilled that it is a one skillet dish. He always has some comment about the state of the kitchen when I'm done cooking these days. I do honestly try to clean as I go. In fact I hear my mom's voice in my head telling me those exact words but it usually looks like a cyclone went through my kitchen no matter what I do.
I must admit that I prepared chicken on the side so that if my men refused the tofu they could pick it out and substitute the chicken, but I'm not going to pick it out for them. I was a little worried about what kind of reactions I would get from this meal but I have to say that even I was impressed with the way the tofu looked (and tasted!) before I placed it in the warm oven.
Everything was moving along just fine until I realized I did not have the hot dried chiles. Now that is an important ingredient in Kung Pao and somehow I missed it so I just used a healthy amount of red pepper flakes instead. No problem. Everything else came together beautifully.
My family did not see the tofu part of the preparation so when they asked what it was I just said it was a veggie. That's not a lie right? One just took it at face value and said it was good. The other tried to analyze it and decided it was fried mashed potato chunks. I think the funniest thing was that my older son came home to eat the leftovers the next day and when he took the foil off the dish, he was so upset that all that was left was the chicken and a few peanuts. His brother had beat him to it.
Get this – no one had eaten the chicken!! (Until that was all that was left of course). I think that speaks for itself about just how amazing this dish tastes. My challenge to get them to love vegetables just as much as the other items on the plate is working! I am so proud of myself – seriously proud.
~Kim Hastings