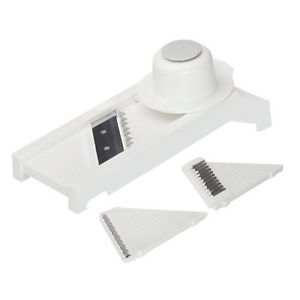 One of our many culinary wedding gifts was a mandolin made for home use, which I used early on, just about sliced my finger off, and promptly gave away.
It's been many years since then and, with all of the cooking I've done, I've never felt I needed or wanted another mandolin.  But something I saw–probably on a cooking show–had me thinking about them again.  And, this winter, I abruptly decided I had to have one.  So I popped into our local kitchen shop, asked for their best recommendation, and emerged with the GSD Haushaltgerate 30 Mandolin for under $70 which you can purchase on ebay here if you are unable to find one in your area.
Love it!  It comes with few (illustrated) instructions because few are needed: it couldn't be quicker or easier to operate.
Be sure to use the guard to protect your fingers well before you think you need it.  The little prongs pierce the food and hold it in place so that you end up with few remnants that aren't perfectly sliced and diced.
As for cleaning, just rinse with warm water, as instructed, lest you wound yourself.
Stay calm and slice on!