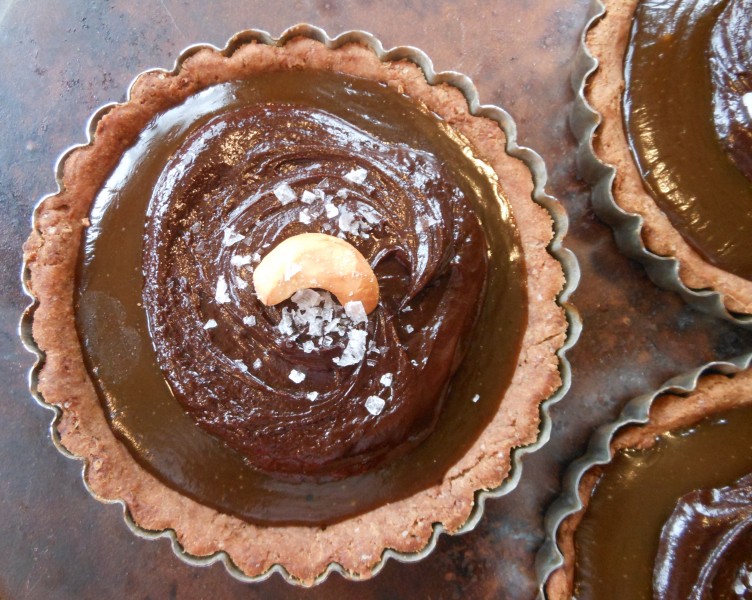 Yield: 4- 41/2 inch tarts
(Note: just scroll down a bit to skip the back story.)
Recently, I was longing after salted caramel and chocolate ganache tarts taunting me from the bakery case at Starbucks.  So when I read that coconut sugar–the last of the Navitas Naturals products I had the privilege of taste testing–is known for its caramel-like flavor, I knew exactly what I would make.  I just wasn't sure how.
The ganache is, of course, simple with vegan chocolate chunks or chips melted with the non-dairy creamer of your choice.  However, the caramel and the chocolate crust were another matter.
I have a go-to no-fail recipe for caramel sauce, but this caramel needed to be firm enough to cut through without oozing all over the plate.  But not so hard or sticky that follow-up dental care would be required.
So, I veganized a caramel tart filling recipe I found online that called for sugar, cream and butter.  But the amount of sugar proved woefully skimpy and I could tell the filling wasn't going to stiffen, so I added another 1/4 cup.  That still didn't do the trick even after some refrigeration, so I decided to return the mixture to a saucepan and cook it to either the soft ball or firm ball stage.  Ultimately, I decided on the latter.  A good decision, as it turns out.
The coconut sugar is rich brown in color and definitely boasts a different flavor than either granulatedor brown sugar.  Instead of the molasses notes of the latter, coconut sugar really does have a distinct, if subtle, hint of caramel-like flavor, as billed.  And I liked it a lot.
For the chocolate crust, I didn't want a cookie crumb variety but a bona fide rolled tart crust.  It's a little more work, but worth it, according to one of my experienced tasters, who mentioned how tasty the crust was.  I found the perfect recipe online thanks to Martha Stewart, a longtime trusted source,  ex-con though she may be–ha!   I easily veganized it by substituting vegan butter for its dairy cousin, and the resulting dough was ideal: tasty, not too sweet (though I did add an extra tablespoon of sugar), and beautifully manageable.
I had planned to place a pecan half on top along with a sprinkling of Maldon flaky sea salt, but all I had in the freezer were pecan pieces, so a cashew half was the perfect buttery topknot.  I ordered my Maldon online, but any super flaky salt–like snow flakes–will do.  Coarse sea salt will work in a pinch.
Two of the tarts went to our vet and his wife, an LVT who also manages their practice because, together, they are responsible for saving the life of our beloved and food-obsessed 85-lb Great Dane X via text and phone call on Sunday, as she had swallowed a (vegan) burger whole when I had gone upstairs to get my camera to photograph it.  All would have been fine had said burger not been topped with a 3-inch red plastic toothpick speared through a dill pickle slice.  The purge "cocktail" they coached me through worked like a charm and all came up the way it went down.  The remaining decadence went to a dear friend, along with an arm-knitted scarf, whose birthday was on Wednesday.  All were delivered in the snow late Monday afternoon which, if a little dicey, was a lot of fun.
Both sets of recipients–one, a self-proclaimed salted caramel and chocolate afficianado and the other a foodie and outstanding cook in her own right–pronunced every morsel of these tarts utter perfection.  And, of course, I hope you will agree!
Chocolate Rolled Crust
2 cups flour
3 tablespoons cocoa powder
1/4 cup coconut sugar (or any granulated sugar; I typically use demerara)
3/4 cup cold butter, cut in small cubes
1 teaspoon espresso powder dissolved in 1/3 cup cold water (or 1/3 cup cold brewed coffee)
Place four, cocoa powder, sugar and butter cubes in food processor and pulse until butter resembles small peas.  Drizzle with coffee and pulse until dough comes together, scraping sides as necessary, adding a few more drops of coffee or water if necessary to make a pliable dough.  Turn onto a work surface lightly sprinkled with cocoa powder and knead a few times.  Press into a 1-inch thick rectangle, wrap in plastic wrap, and chill for 45 minutes.  Remove from refrigerator and let rest for 5 minutes.  Roll out to 1/8 inch thick between pieces of parchment paper.  Place however many 4 1/2-inch tart pans will fit on dough and, with a small paring knife, cut out circles around them, allowing enough width to fit in sides of pans.  Gather up scraps, kneading a couple of times, and rerolling in order to have enough dough for all 4 shells.  Fit each circle of dough into the tart pans, press onto bottom and sides and trim edges.  Lightly prick bottom and sides and, for extra assurance against puffing and shrinking, place a square of parchment paper in each, weigh down with raw rice or dried beans, and bake for 15 minutes.  Remove paper and rice or beans and bake an additional 25 minutes.  Cool on a wire rack.
Vegan Caramel Filling, Chocolate Ganache, and Garnish
1 cup coconut sugar (or any granulated sugar; I typically use demerara)
2/3 cup plain non-dairy creamer
1/3 cup vegan butter
Vegan Chocolate Ganache (recipe follows)
4 whole or halved cashews
1/2 teaspoon Maldon Sea Salt (or the super-flaky sea salt of your choice)
Place coconut sugar, non-dairy creamer and vegan butter in a small saucepan (I used a non-stick pan) and bring to a simmer over medium-high heat, stirring occasionally.  Attach a candy thermometer to the side of the pan with tip immersed in the caramel, but not touching the bottom of the pan, and cook to the firm ball stage (250 degrees) or just below (245 degrees).  Remove from heat and pour caramel into tart shells, dividing evenly.  Cool, spread a circle of Vegan Chocolate Ganache on top allowing caramel to show around hte perimeter, garnish with a nut and a pinch of sea salt, cover, and refrigerate.
Vegan Chocoalte Ganache
1/4 cup plain non-dairy creamer (I typically use soy or coconut milk)
1/2 vegan chocolate chips or chunks (I like a dark chocolate variety)
In a small microwave safe bowl, combine creamer and chococlate.  Heat for 30 seconds, whisk, heat for another 30 to 60 seconds, whisk again, and cool.  Note: you may have some ganache left over.