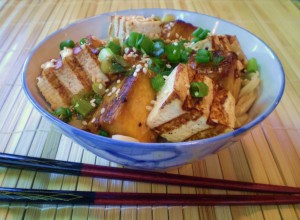 I was thrilled to come home today from a quick overnighter (yesterday was a school holiday) to North Carolina's captivating Outer Banks to learn that the wonderful folks at One Green Planet had published my recipe for Vegan Miso-Roasted Pumpkin and Grilled Tofu over Udon Noodles.  Just click the recipe title to be taken directly to the recipe on their site.  Enjoy!
And, of course, you can find 150 more seasonal delights in:
The Blooming Platter Cookbook: A Harvest of Seasonal Vegan Recipes.