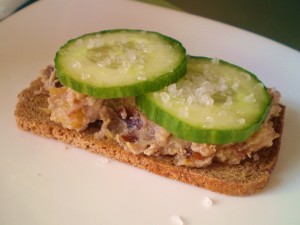 Yield: 4 servings
Last Saturday, I had the distinct honor of delivering a program on The Blooming Platter Cookbook: A Harvest of Seasonal Vegan Recipes (TBPC) for an education sorority of which I'm a member: the Alpha Rho chapter of Delta Kappa Gamma.  Because of my schedule over the last year, I have not been able to be an active member, so it felt very good to be back in the fold.  And the 35 or so members in attendance were so generous with their praise and purchase of books.
The 9-11 a.m. time frame of the meeting dictated brunch-type offerings, but ones that were along the lines of "pick up" food and that didn't need to be served hot, as the meeting was held in the library of the school where several of us teach.  Though the space is filled with natural daylight, it has no kitchen.
It's my pleasure to share the menu in the next few posts starting with this sneak preview recipe from TBPC.  In the cookbook, I suggest serving it as an open-face sandwich on that ultra-thin, dense and perfectly square Danish pumpernickel bread.  But for the meeting, I sliced the bread in half to make "fingers," and toasted it for a few minutes on each side at 350 degrees.  That way, I could serve the bread as an accompaniment to a dish of the spread and a separate one of cucumber slices, and not need to prepare a lot of finger sandwiches in advance.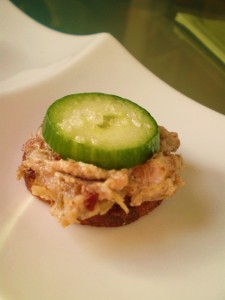 Fresh and pretty, this sandwich would also be lovely for afternoon tea, though it is a perfectly filling lunch when lighter fare is in order. A "schmear" of the luscious ginger and clove-scented spread plus one slice of cucumber also tops a cracker just about perfectly.  And both the spread and cucumbers on a toasted bagel take the quick breakfast concept to a new level.
14 ounces firm tofu, drained and pressed
2 teaspoons lemon juice
1 1/2 teaspoons fresh grated ginger
2 teaspoons maple syrup
1 teaspoon vegan Worcestershire sauce or Bragg Liquid Aminos
3/4 teaspoon garlic powder
1/2 teaspoon ground cloves
1/4 teaspoon sea salt
Freshly ground black pepper
1 cup chopped pitted dates
1/2 cup chopped walnuts
1/2 cup chopped dried apricots
1 medium (8-ounce) cucumber, thinly sliced Sea salt
8 slices Danish-style pumpernickel bread
In a food processor, combine the tofu, lemon juice, ginger, maple syrup, Worcestershire sauce, garlic powder, cloves, salt and pepper to taste, and process until smooth. Transfer to a medium bowl and stir in dates, walnuts, and apricots. Check for seasoning and adjust if necessary. Spread the mixture evenly onto the bread slices, top each with the cucumber slices, and sprinkle with a pinch of sea salt. Serve immediately, two slices per serving.