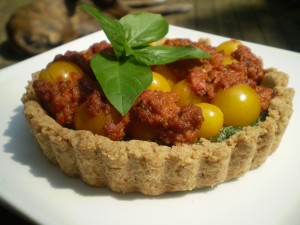 Yield: 4 4-inch tarts (you will have enough pesto to make 8 and lots of Romesco sauce for drizzling over any number of dishes that would benefit from a creamy kick)
A lunch that ended up in the woods beside our house is the inauspicious beginning of this recipe that may just be an all-time favorite.
After a nice long hike at First Landing State Park (previously and more picturesquely named Seashore State Park) with my close friend Mary Beth Nixon, I stopped for an Indian buffet to-go from a fairly new restaurant near her house.  Neither the restaurant, nor the styro-box, emitted that intoxicating aroma characteristic of Indian restaurants.  Turns out, there was a good reason.  It was the blandest Indian food I have ever eaten.  Correction, it was the only bland Indian food I have ever eaten.  So I nibbled a little at it on the way home, but on the way up our long driveway, I stopped and tossed all but the container and spoon into my unofficial compost pile in the woods.
Pretty hungry after no breakfast, dog walks, and our hour-long park hike, I wracked my brain for what I could make from the ingredients I had on hand.  Yesterday, I had picked up golden grape tomatoes and bell peppers, among other produce, at a local farmer's market.  Noting that I had half of a red pepper leftover from a dish I'd made for lunch yesterday, I remembered the outstanding Romesco sauce that had been served over chickpeas at the 1 Michelin-starred vegetarian restaurant, Ubuntu, where we had celebrated my birthday (for the final time this year!) last Saturday night in Napa.   I didn't have almonds, but I had walnuts and they would have to do.
We had also been served the fruitiest, "meatiest" olives in a captivating fennel pesto.  So, while I didn't have fennel, I did have some fresh baby spinach that I knew would make a lovely pesto.  With my go-to press-in dough baked to make the crust, I could then nestle the grape tomatoes onto a creamy layer of spinach pesto and drizzle the Romesco over the top for beautiful color contrasts and bursts of exciting flavors.
Voila!  Golden Grape Tomato Tarts were born.
Spicy Romesco Sauce:
1/2 of a large red bell pepper, stemmed and seeded
1 extra-large tomato, cored and quartered
1/4 cup olive oil
1/4 cup walnuts (or the nut of your choice; almonds are traditional, but use what you have and feel free to mix and match)
1/4 cup Panko bread crumbs
2-3 large cloves garlic, fairly thickly sliced
2-4 small red dried chilies, ends removed, split, seeds removed, and torn into about 3 pieces
2 tablespoons red wine vinegar (or 1 tablespoon red wine + 1 tablespoon balsamic vinegar)
sea salt and freshly ground black pepper to taste
Place oven rack in top position and preheat oven to broil.  Line a baking sheet with Silpat or foil and place bell pepper and tomatoes, cut side down, in center of sheet.  Broil for 5  minutes or until the pepper's skin is charred.  Remove the pepper and broil the tomatoes 5 minutes longer or until their skin is charred.  When cool enough to handle, remove and discard skin.  Meanwhile, heat oil over medium-high in a large cast iron skillet.  Add nuts, bread crumbs, and garlic, and saute, stirring almost constantly, until ingredients begin to turn golden, about 1-2 minutes.  Then add chilies and cook 1-2 minutes more until the color of the chilies brighten and the nuts, bread crumbs and garlic are golden.  Watch carefully to prevent scorching.  Place all ingredients in the bowl of a food processor, including the bell pepper, tomato, all of the contents of the skillet, including the oil, and salt and pepper to taste.  Process until almost smooth.  Scrape into an airtight container and set aside.  Store leftovers in the refrigerator.
Crust:
1 1/2 whole wheat flour (I love spelt, but any kind will do, even white whole wheat or a combination)
1 teaspoon salt
2 teaspoons natural sugar (may omit, but I like the slight sweetness with the sweet tomatoes and spiciness of the Romesco sauce)
2 tablespoons soy milk
1/2 cup canola oil (sounds like a lot, but it is needed; just eat low- or no-fat meals for the rest of the day)
Preheat oven to 400.  Place 4 4-inch tart shells with removable bottoms on a baking sheet (I line my sheet with Silpat).  Then place dry ingredients in a medium bowl.  Make a well in the center and pour in wet ingredients.  Stir together with a fork just until completely combined and mixture holds together.  Divide into fourths and press each evenly into the bottom and sides of each tart pan.  The bottom of a drinking glass can help with this task.  Bake for 10-12 minutes or until the crusts are barely starting to brown.  Remove from the oven and allow to cool for 3 minutes.  Leave oven on.  While crusts bake, make Spinach Pesto.
Spinach Pesto:
4 cups lightly packed fresh baby spinach
1/4 cup shelled pistachios (or the nut of your choice)
2 tablespoons nutritional yeast
2 tablespoons olive oil
1 teaspoon balsamic vinegar or fresh lemon juice
sea salt and freshly ground black pepper to taste
Place spinach, nuts, and nutritional yeast in the bowl of a food processor and process until a paste begins to form, scraping down the sides of the bowl as necessary.  With the motor running, drizzle in olive oil, balsamic vinegar or lemon juice, and a pinch of both salt and pepper.  Continue processing until smooth.  Taste and adjust seasoning with additional salt and pepper if needed.  Scrape into an airtight container and set aside until needed.  Refrigerate any leftovers.
72 golden grape tomatoes or about 1 pint (red would be fine, but not as nice of a color contrast with the Romesco sauce)
Garnish: fresh basil sprigs
After crusts have baked and cooled for about 3 minutes, spread each with 1 generous tablespoon of Pesto Sauce.  Arrange 18 tomatoes–or whatever will fit nicely in one layer–on top of the pesto.  Drizzle each with 1 generous tablespoon of the Romesco Sauce.  Return the tarts to the oven and bake an additional 15 minutes or until the crusts are nicely browned and the Romesco Sauce looks slightly set.  Remove the baking sheet from the oven and carefully remove the tart pans to a wire rack until cool enough to handle.  Remove the tart bottoms from the side rings, leaving the tarts sitting on their removable bottoms.   Serve warm garnished with sprigs of basil.  You may heat and pass additional Romesco Sauce if desired.