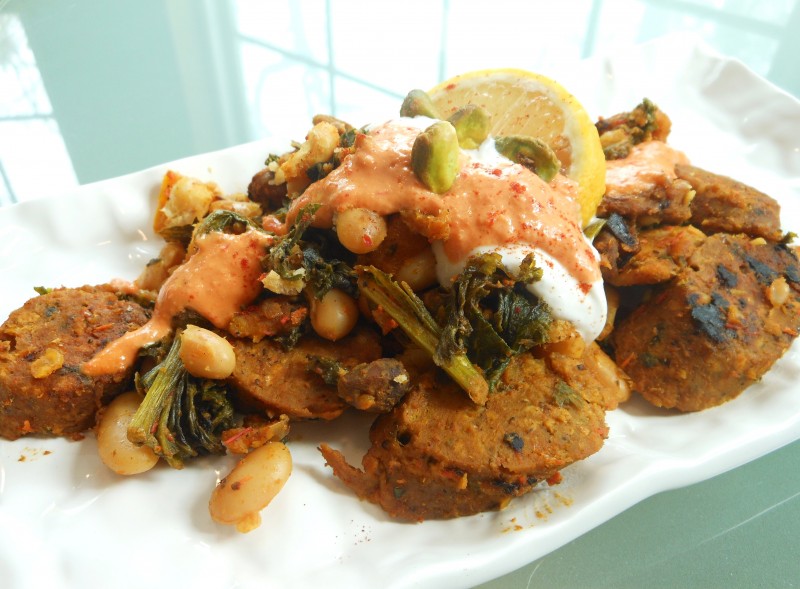 Yield: 4 to 6 servings
This long, snowy winter here at the beach finds me loving the weather, actually, and hungry for warming and hearty, but still healthy, fare.
After a recent trip to Organic Depot, I found myself with three different kinds of Tofurky Sausage, including Spinach Pesto.  How did that happen?  I rolled around a number of ideas, none of which sounded just right until I thought of a Middle Eastern take on my beloved migas, substituting pita bread for the tortillas, chick peas for the black beans, etc.
Plus, these days,I seem to slip bitter winter greens into almost everything, and this dish was no different.  Packed full of vitamins, pungent mustard greens turned out to be the perfect flavor and color counterpoint.
And don't leave out the lemon zest!  The complex depth of the spices in this dish and the slightly sweet peppadew sauce needs it for brightness and a little tangy zip.
Sauce:
12 peppadew peppers, drained (I purchase them on the "olive bar" at a chain grocery store, Kroger to be specific)
3 tablespoons olive oil
3 tablespoons water
2 tablespoons tahini
1/8 teaspoon ground cloves
Zest of 1/2 large lemon
Sea salt and freshly ground black pepper to taste
Place all ingredients in food processor and blend until smooth and creamy.  Set aside 4 tablespoons for garnish and reserve remainder for migas.
Migas:
1 tablespoon olive oil
1 medium yellow onion, finely diced
Sea salt
2 large cloves garlic, minced
1/2 teaspoon ground cumin
1/2 teaspoon ground ginger
1/2 teaspoon paprika
1/2 teaspoon turmeric
1 red or orange bell pepper, seeded and diced
1 whole piece pita bread, plain or whole wheat, torn into bite-size pieces
8 ounces vegan link sausage, sliced (homemade or prepared; I use Tofurky brand Spinach Pesto flavored)
4 ounces mustard greens, coarsely torn or chopped
1/4 cup whole pistachios
Zest of 1/2 of large lemon
Topping: unsweetened vegan yogurt (or sour cream, in a pinch), and the 1/4 cup sauce set aside
Optional garnish(es):  lemon slices, pistachios, paprika
Heat olive oil in a large cast iron skillet over medium high.  Add onion and a pinch of salt and saute, stirring frequently, until slightly softened, about 3 minutes.  Add garlic and spices and saute, stirring, for 3o seconds.  Add bell pepper, and saute, again stirring frequently, for 3 minutes or until pepper is slightly softened.  Add pita bread, and saute, stirring, for a couple of minutes.  Then add sausage and saute for 2 to 3 minutes or until it starts to brown in spots.  Add mustard greens on top and gradually fold in, allowing them to wilt as they heat.  Once incorporated, add reserved sauce (still leaving 1/4 cup for garnish), pistachios and lemon zest, stirring well to incorporate and heat through.  Serve topped with a dollop of vegan yogurt on each serving and a drizzle of the remaining 1/4 cup of sauce, divided evenly among plates.  Garnish each serving, if desired, with a lemon slice, a few pistachios and/or  a sprinkle of paprika.