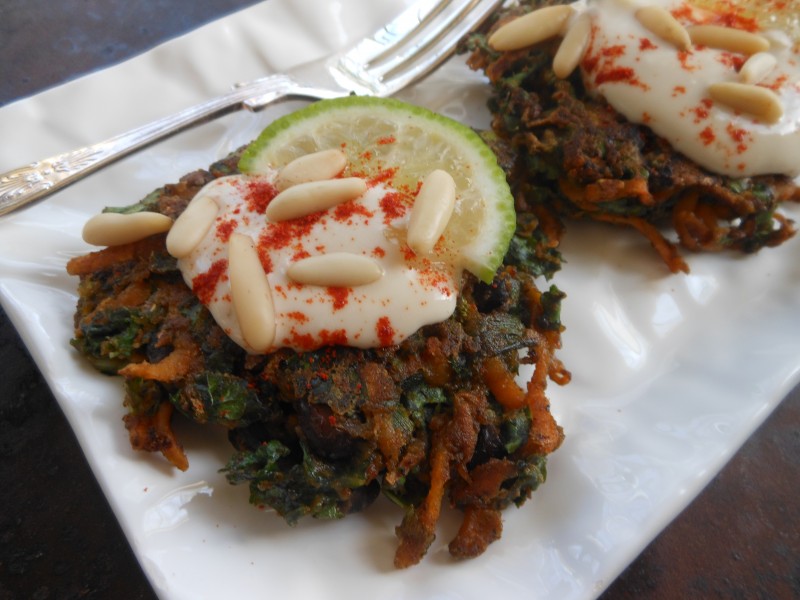 These savory fritter-cake hybrids are made from a trifecta of favorite, healthful, colorful and plentiful ingredients: chopped fresh kale, shredded sweet potato, and black beans.  Green onion adds a fresh, pungent, herb-y kick.
A food processor made short order of  finely chopping the kale and, with a quick blade switch-out, creating beautiful, consistent shreds of sweet potatoes and no scraped knuckles.  For efficiency, I used canned black beans, rinsed and well-drained, mashing about half of them with a potato masher to help the fritter-cakes hold together without  a lot of additional ingredients.  However, I did use a little flour and soymilk (use the nondairy milk of your choice) plus some baking powder and soda for a hint of lift, but not enough to create a "batter."  The finished consistency of these is somewhat similar to a latke with a bit more body.
For spices, black beans would suggest Mexican or southwestern flavor notes.  But, for some reason, I wanted to nudge these fritter-cakes in a slightly Middle Eastern direction.  So I did invite cumin, coriander and lime zest to the party, but also smoked paprika and sumac which lends a lovely earthy lemony profile.  It is widely sold in Middle Eastern grocery stores, but if you can't find it, just order it online or leave it out.  However, it has been one of my favorite kitchen companions of the last few years.
For cooking, I tried both oil and nonstick spray and found that the calories in the oil were worth achieving a crispier crust, but see what you think.
I love a savory and ever-so-slightly sweet balance, so for a topping, I whisked a little lime juice and tamarind syrup into vegan sour cream.  Tamarind syrup lends a heavenly, subtle and distinctively Middle Eastern floral note tempered by the sweetly acidic lime juice.  Again, the syrup is sold at Middle Eastern grocery stores and online.  But you could substitute pomegranate syrup which is fruity without being floral or just leave out all together and go with a citrus sour cream which would be delicious too.
A little spoonful of the sauce, a thin slice of lime, a few pine nuts and a sprinkling of smoked paprika created a beautiful presentation of these delectable disks, perfect for breakfast brunch, lunch or even dinner, perhaps with a side salad.
3 cups shredded sweet potatoes (slightly over a half-pound potato)
4 cups coarsely chopped or torn kale, finely chopped (I used a food processor)
1-15.5 ounce can black beans, rinsed and well-drained; half of beans mashed with potato masher
6 green onions, very thinly sliced
1/2 cup unbleached all-purpose flour (I use white whole wheat)
1 teaspoon baking powder
1/2 teaspoon baking soda
1 teaspoon ground coriander
1 teaspoon ground cumin
1 teaspoon garlic powder
1 teaspoon smoked paprika
1 teaspoon sea salt or to taste + a small amount more for sprinkling
1/2 teaspoon freshly ground black pepper or to taste
1/2 cup soymilk (or an nondairy milk)
Tamarind-Lime Cream (recipe follows)
Garnishes (optional): thin slices of fresh lime, a few pine nuts, dusting of smoked paprika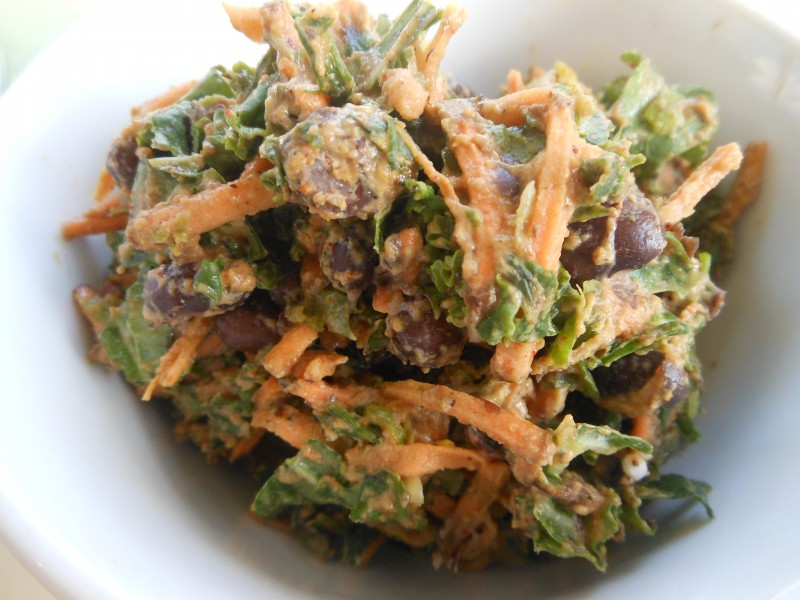 Line a baking sheet with paper towel and set aside.  Set oven to lowest temperature.  In a large mixing bowl, toss together with your hands sweet potato, kale, green onions, and unmashed sweet potatoes.  In a medium bowl, whisk together mashed beans, flour, baking powder, baking soda, all spices, including salt and pepper, and soymilk.  Spoon in roughly even dollops over vegetable-bean mixture and combine well with a fork.  The mixture will be very textured and moist, mounding nicely, but will not form a batter.
Heat a thin layer of vegetable oil (or a combination of vegetable and olive oil) in a large cast iron skillet over medium-high.  Divide mixture into 1/12ths and, using a spoon or scoop, place 4 evenly-spaced mound into the sizzling oil pressing to about 1/2-inch thick with a metal spatula.  Cook for about 2 minutes, flip and cook 2 more minutes, lowering temperature if necessary to prevent scorching.  They will turn a rich nutty brown (as opposed to a light golden brown).  Remove fritter-cakes and drain on prepared baking sheet, sprinkling each with a few granules of sea salt.  Keep warm in oven.  Repeat twice more with remaining mixture.  Serve immediately topped with Tamarind-Lime Cream and garnished as desired.
Tamarind-Lime Cream
1/2 cup vegan sour cream
1 teaspoon tamarind syrup (or pomegranate syrup)
1 teaspoon fresh lime juice
Sea salt to taste