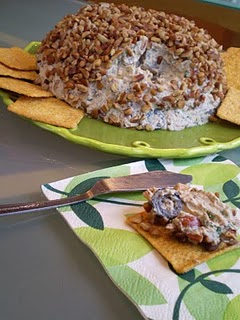 Yield: 1 Cheese Ball
This is one of those treats I remember from childhood. It was always a favorite and it always signaled the Christmas holidays. Of course, I haven't eaten it in MANY, MANY years, but this Christmas when I was home, we stopped over to visit the Crumbleys, some family friends–our parents have known each other since college–and Ann and her chef son, James, had actually made this particular cheese ball. I was filled with nostalgia and determined to clean it up vegan style. It's a little late for Christmas, but it's just in time for the Super Bowl!
1-14 ounce box extra firm tofu, drained
juice of one lemon
1 tablespoon Amino Acids
1 tablespoon balsamic vinegar
1 tablespoon light miso
1 tablespoon vegan mayonnaise
1 teaspoon prepared mustard
2 tablespoons nutritional yeast
1 teaspoon pickling or "corning" spice (grind or crush if some of the spices are whole)
1/2 teaspoon garlic powder
1/2 teaspoon onion powder
Season Salt to taste
coarse sea or kosher salt to taste
1 cup toasted chopped pecans
2-4 green onions, thinly sliced
1 small or medium can mushrooms, drained (ordinarily, I would NEVER use canned mushrooms, but they are a key ingredient)–I prefer the medium size can
1 small or medium can sliced black olives (ditto about the canned product)–I prefer the medium size can
Garnish: 1 small bag pecan chips
Puree first 13 ingredients in food processor until smooth, stopping and scraping down bowl as necessary. Transfer to a medium mixing bowl and stir in remaining ingredients, except pecan chips, by hand.
Line a medium sized bowl–as half-spherical in shape as you can find–with plastic wrap. Spoon and press "cheese" mixture firmly into bowl; smooth top. Fold ends of plastic wrap over to cover. Refrigerate several hours or up to a couple of days to allow "cheese" to set and flavors to marry. Fold plastic wrap back from top surface of "cheese" ball, place a serving platter on top, and invert ball onto platter. You may have to tug gently on corners of plastic wrap to help it release. Remove plastic wrap, gently press pecan chips into the surface, and serve with crackers or small toasts.