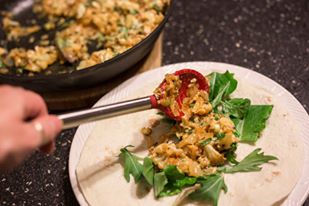 (A sequential installment from Kim Hastings, my photographer friend and, along with her vet husband, owner of Independence Veterinary Hospital, who decided on her own to cook her way through The Blooming Platter Cookbook: A Harvest of Seasonal Vegan Recipes Julie & Julia Style for her omnivorous family as a strategy for more healthy eating.)
Tonight I decided to stick with cauliflower since I got a deal on them. So it's Indian Cauliflower Wraps for dinner (and yes there is a big pot of chili on the stove so my guys don't feel deprived).
I read through the recipe and saw "vegan mayo" – now if my family sees vegan mayonnaise in the fridge they will be on to me in a heartbeat, so ix-nay on the egan-vay! Then I see cilantro. My husband has a meltdown when he catches a whiff of cilantro so I'm switching to parsley. This morning I noticed that my parsley was still thriving in my herb garden so I ran out and chopped a bunch of it before the snow hit this afternoon.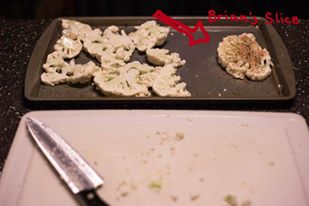 Ok confession time. What I did not mention yesterday was that when I had cut my cauliflower steaks so beautifully and had them oiled and salted waiting to go into the oven, I turn around and my husband was covering them with "Zip It', a powerful ghost pepper seasoning I found in Texas. Now my husband will tell you that I "over reacted". Ok fine. Looking back that is probably a nice way of putting it. Anyway, tonight I separated one out for him to "ruin" as much as he liked.
With that compromise done, the rest was fairly easy. I admit I had to read it several times to keep the steps in order but I do that with all new recipes.
These wraps turned out so amazingly delicious that I drove one over to my son's house two blocks away so he could experience them with us. Now the entire family is a big fan of this recipe!
~Kim Howard Hastings