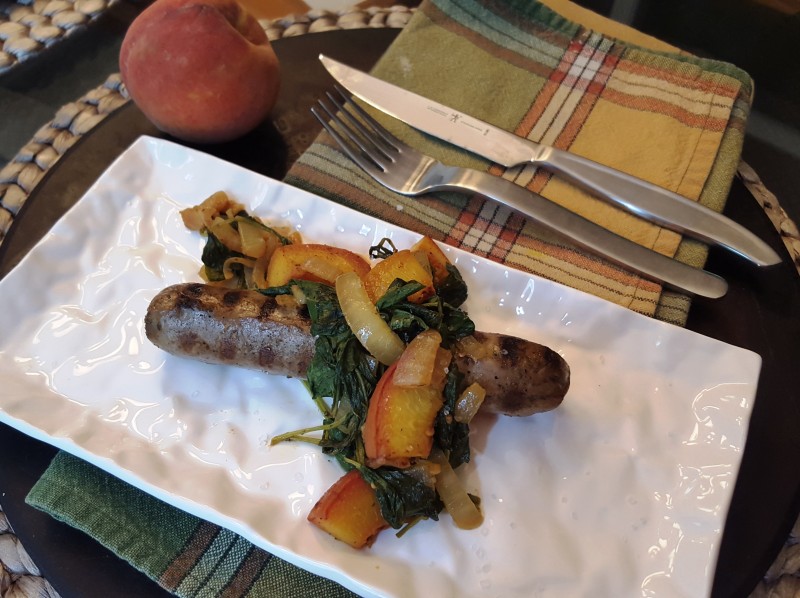 Yield: 4 servings
Despite the fall colors in my photo and the sausage–which I often associate with cool weather–this recipe capitalizes on one of summer's biggest boasts: peaches!
Starving after a 2 mile walk with Minnie and an hour long Pilates-Barre class (with the formidable, but lovely, Darlene Stephens at Music in Motion hear in Coastal Virginia), I wanted a quick, healty, pretty and satisfying lunch.  I don't want much, do I?
Remembering that I had sausages in the fridge that needed used and hankering for peaches after having some of the best last week while visiting my family in Mississippi, I nipped into the grocery store, still clad in exercise attire, to pick up some baby kale and peaches, and dashed home to whip together this easy, flavorful lunch.
Recipe Note: Some vegan sausages taste like sawdust in a tube so find a good one.  I tend to like a flavored one, say Field Roast's apple-sage.
2 tablespoons olive oil, divided
4 vegan sausages (try one like Field Roast apple-sage)
1 medium yellow onion, sliced or diced
Sea salt
2 peaches, cut into 1/8ths and each 1/8th cut in half
2 tablespoons red wine vinegar
2 teaspoons agave
1 teaspoon curry powder
2 cups baby kale (or chopped mature kale, tough stems removed)
2 large cloves garlic, minced
2 tablespoons coconut milk creamer
2 teaspooons Dijon or your favorite grainy mustard
Spread an indoor grill pan or small skillet with 1 tablespoon of the olive oil, preheat over medium-high, and grill or griddle sausages  for about 6 to 8 minuts or 1 1/2 to 2 minutes on 4 sides.  Remove to a plate and tent with foil to keep warm.  Meanwhile, heat remaining tablespoon of olive oil in a large cast iron skillet over medium-high.  Add onion, a pinch of sea salt, and saute, stirring frequently, for 2 minutes.  Add peaches and continue sauteeing and stirring for about 3 minutes.  Stir in red wine vinegar, agave nectar, and curry powder until completely combined.  Add kale and garlic and cook, stirring, for about 2 minutes or until kale begins to wilt, but is still bright green.  Stir in creamer and mustard until well distributed and heated through.  Serve 1/4 of compote over each sausage sprinkled with a tiny pinch of coarse sea salt.