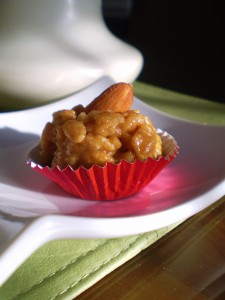 Yield: 12 "stuffed" balls or 24 unstuffed (easily doubles)
In this recipe, a childhood favorite grows up…just a little.  And, because these treats are portable and can sit out indefinitely, they lend themselves to Superbowl noshing, as well as brown bag lunches, backpack snacks, and travel.
As a kid, my mom, sister and I used to make Peanut Butter and Rice Krispie Treats.  So when Alisa Fleming of Go Dairy Free, who also does some online marketing, offered to send me a couple of varieties of cereal from Attune Foods to review and mentioned that Erewhon Crispy Brown Rice Cereal was a good "recipe cereal," I knew what I would make as soon as the package arrived on my doorstep
But, being one who likes to play with her food–that is, adapt original recipes–I started brainstorming about what I could do to make them extra-special.  I'm not a big cereal eater, as most are so carb- and calorie-dense and fail to make me fill satisfied, but I do like the idea of cereals with fruit and nuts.   And my good pal, Katherine Jackson and I had recently gone on a 7+ mile hike in Back Bay National Wildlife Refuge and False Cape State Park with dried apricots and almonds in tow.  So, it occurred to me that I could form the mixture into balls around a piece of dried apricot and tuck a roasted almond into the top.  Delicious, nutritious, and cute to boot. (Note: Katherine authored the book, Walking Virginia Beach.)
Eureka!  These are so good that the only danger is eating too many.  Though reasonably healthy albeit pretty heavy in the sweetener department, they are far from low-calorie.  So, make them for your Superbowl or any other gathering–or to give as gifts (they pack and travel well)–and limit yourself to just one…or two.  Wouldn't they be cute as Valentine's "candy"?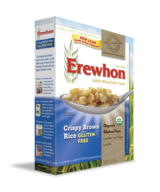 First, before the recipe, the cereal "review":  I loved Erewhon Crispy Brown Rice Cereal.  It is almost identical to Rice Krispies, but it is made with the whole grains of organic brown rice.  And I found Erewhon's particular crunch to be pleasantly dense, not as light and airy as the Kellogg version.  Erewhon is vegan, of course, gluten free, all organic, kosher, low fat, very lightly sweetened with brown rice syrup, and contains no artificial anything.  You can buy it at
Vegan Peanut Butter and Rice Cereal Balls with Dried Apricot-Almond Surprise
1/2 cup agave nectar (I used the light colored variety as a substitute for corn syrup–works beautifully)
1/2 cup natural sugar
1/2 cup organic, unsweetened, creamy peanut butter
1/4 teaspoon vanilla extract
Approximately 2 3/4 cups crispy rice cereal (like Rice Krispies, but I used Erewhon)
3 plump dried apricots, cut into quarters
12 whole roasted almonds
Line a carton or tin with waxed paper or mini muffin/candy liners.  In a 2-quart saucepan over medium-high heat, bring agave nectar and sugar to a simmer, stirring frequently.  Book gently, stirring, for one minute.  Remove the pan from the heat, and stir in the peanut butter until melted.  Then stir in the vanilla extract, followed by the cereal, combining well.  When the mixture is cool enough to handle and easily hold its shape, divide it into 12 portions.  Form each into a ball around one-quarter of an apricot and insert a whole almond into the top.  Place the balls as you shape them into a prepared container.  Store tightly covered at room temperature.  Note: if you choose not to stuff them, you can make them half the size and end up with 24 or twice as many.