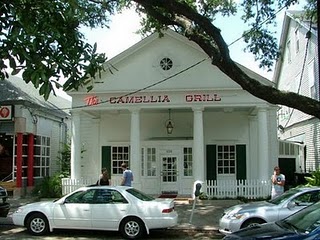 No trip to New Orleans should be without a visit to the landmark eatery,
The Camellia Grill.
(Note: at the time of this post, their website included home page photos, but was still under construction). When you go, you must arrive via a streetcar ride down St. Charles Avenue. If you visit during the cold months, be sure to bundle up. Streetcars aren't heated, at least the one my family road wasn't.
If you follow this blog, you know that, for the last two years, my family has made a very special pre-Christmas trip to New Orleans. Last year, we rode the streetcar for old time's sake, but didn't get off at The Camellia Grill, to which I remembered going as a child. But, this year, though we went by car on our way out of town, we did stop for a late breakfast. While the time of day indicated "brunch," this is no brunch-serving establishment. It's quite a "greasy spoon" lunch counter despite its Colonial southern mansion facade with its name in pink neon printed across the entablature.
Hardly a bastion of veganism, The Camellia Grill serves up a dining experience so unique that's it's worth any protein sacrifice. Formerly surly waitstaff that hurled rolls at each other have been replaced by quite the opposite.
Getting a seat on a busy December morning was an adventure in itself. There's a system. But it's pretty loose. You have to jostle your way to the head of the line to leave the number in your party–not your name, mind you–with the hostess. Then you maneuver back outside to wait a remarkably short time considering the crowds. Just when it seems like she couldn't possibly keep track of all of the comings and goings, you are motioned forward. But it's not to take a seat at the continuous double-U-shaped counter with its floor-mounted stools. Rather, it's to perch on one of the identical L-shaped couches in the corners of the rectangular space. After another short wait and, again, just when you think your party has been forgotten, the correct number of stools open up, and you are motioned to join the other diners. This sometimes requires that folks scoot down a seat or two, or that parties be split up if amenable. No one seems to mind, as it's all part of the convivial experience.
If anonymous entrances and exits are your preference, you can check that at the door because every diner is greeted exuberantly by his or her waiter, complete with whatever that server's particular shtick happens to be. Professionals, all, they keep up a surprisingly unobtrusive repartee, astutely reading their customers for just how far they can go, as they banter with them, the grill meisters and their fellow waiters.
I enjoyed my plate of fresh, thinly sliced tomatoes with crunchy and plentiful, albeit a little greasy, hash browned potatoes washed down with a cup of hot tea. And, okay, I couldn't resist a few of my sister's extra-crispy fries (served with her perfectly grilled Reuben Sandwich).