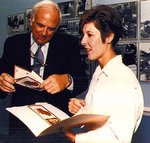 Recently, I was contacted by Kim Simpson of I Resolve To… (pictured at right).
Her blog celebrates making and keeping resolutions "and enjoying the journey." As she traveled around the net, she discovered The Blooming Platter and read about its origins as one of my New Year's Resolutions. She emailed me to ask if she could profile me as a Resolutionista. I was, of course, flattered, and happily agreed to an e-interview which you can read by following this link: http://www.iresolveto.com/ (post date: October 26, 2009).
Once there, I think you'll love Kim's compelling blog. It is generous of spirit and simultaneously practical and inspirational. I am honored that she allowed me to share my thoughts on motivation, goal-setting, moving past obstacles, accountability and more in relation to making and keeping resolutions that involve personal passions.
To Kim and all you other Resolutionistas out there, keep doing your inspired and inspiring work and many thanks for sharing the ride with me.