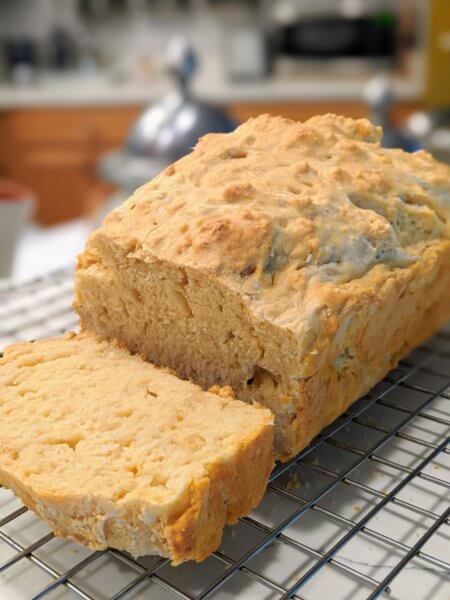 I would love this old school bread even if we could find yeast during this pandemic. I combined recipes to create my own and added garlic powder and onion powder because that makes everything better. But melted vegan butter or garlic oil if desired during the last few minutes of baking or when it comes out of the oven.
3 cups all-purpose flour
3 teaspoons baking powder
1 tablespoon sugar
1 teaspoon salt
1/4 teaspoon garlic powder
1/4 teaspoon onion powder
1-12 ounces (vegan) beer
1 tablespoon olive oil or melted vegan butter
Preheat oven to 350°. Oil of 5×9-in loaf pan. In a medium bowl, whisk together dry ingredients. Make a well in the center, add wet ingredients, and stir together with a fork. Transfer to prepared pan. Bake 55 minutes. Removed wire rack for 5 minutes. Turn out of pan. Slice and serve.
#vegan #veganrecipes #veganfoodshare #veganfoodporn #plantbased #plantbasedrecipes #plantbasedfoodshare #plantbasedfoodporn #veganbread #plantbasedbread #yeastfreebread #norisebread #onebowlbread